Benjamin Franklin said " If you fail to plan and you are planning to fail. " This is the first thing that comes to mind when I think about marketing for a law firm. We have come across dozens of law firms who rely only on disjointed idea of a plan to grow. The following outlines how we create a plan that enables our law firm clients to reach their revenue goals.
Table of Content (Because this is a long one)
2. Develop S.M.A.R.T. Goals
Specific
Measurable
Attainable
Relevant
Timebound
3. Develop a Paid Strategy
Adwords
Bing
Facebook
Linkedin
4. Do Keyword Research
Keyword Research Tool
Google Trends
Ask your clients
5. Conduct a Competitor Analysis
Competitor analysis tools
What to look for
6. Create a Content Marketing Plan
Content SWOT
Content Matrix
Content Title Brainstorm
Content Schedule
Repurpose
7. Search Engine Optimization
On-Page
Link Outreach
Research: Forums, Q&A Sites/ Comments
8. Social Media Marketing
Research Communities
Content Calendar
9. Email Marketing
Email Content Planning
Lead Nurturing and
10. Reporting
1. We Start with Buyer Personas and the Buyers Journey
The first step we take is to understand who the ideal client is. We spend a great deal of time interviewing our client's clients in order to create fictional representations of the archetypal customer. The research includes demographics, level of education, career path, current employment, job roles, skills sets, challenges faced, responsibilities, and where they hang out online.
The result is a profile much like the one below, an example of a buyer persona for an Immigration Attorney that specializes in business immigration visas.
Name: Eetu Pete
Age:

30-50 years old

Title: Investor, Business Owner
Digital Status: Savvy, likes gadgets, owns multiple devices (invests in Apple), Runs several businesses in home country
Personal Objective: To expand to his business to the US
Values: Process, expertise, responsiveness
Fears: Being caught off-guard, security threats
Factors that Influence Decision-Making: Working with industry leaders, track record of excellence, price
In order to create a profile such as this, consider the following questions:
1) Describe targets personal demographics.
2) Describe their educational background.
3) Describe their career path.
4) In which industry or industries do they work?
5) What is the size of their company (revenue, employees)?
6) What is your their role? their title?
7) Whom do they report to? Who reports to them?
8) How is their job measured?
9) What does a typical day look like?
10) Which skills are required to do your job?
11) What knowledge and which tools do they use in their job?
12) What are their biggest challenges?
13) What are they responsible for?
14) What does it mean to be successful in their role?
15) How do they learn about new information for their job?
16) Which publications or blogs do they read?
17) Which associations and social networks do they participate in?
18) How do they prefer to interact with vendors?
19) Do they use the internet to research vendors or products? If yes, how do they search for information?
20) Describe a recent experience in hiring an attorney
As marketers, we typically spend about 10 hours researching and creating buyer personas for our client. Do not skimp on this. It will make everything else you do a lot easier.
The Buyer's Journey
Once you have a deep understanding of who you want to attract as clients the next step is to map out how that individual becomes your client. We refer to this as the Buyer's Journey.
Our partner HubSpot, defines the buyer's journey as, "the process buyers go through to become aware of, evaluate, and purchase a new service."
They outline the journey in three steps:
Awareness Stage: The buyer realizes they have a problem.
Consideration Stage: The buyer defines their problem and researches options to solve it.
Decision Stage: The buyer chooses a solution.
Below is a graphic illustrating a sample buyer's journey for an individual who wants to engage with an an attorney specializing in intellectual property law.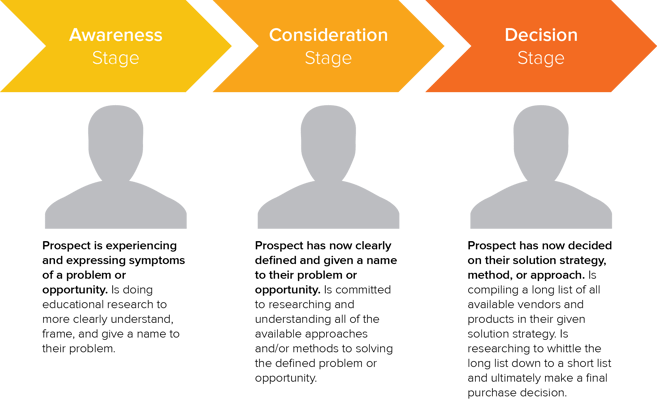 Let's break down each stage and identify the questions you and your team need to answer to get to the right result.
In the Awareness stage, your prospective clients identify a challenge that they must overcome. Questions for the awareness stage are:
What challenges are you prospective clients facing?
How do they educate themselves about these challenges?
What happens if they decide to do nothing to overcome the challenge?
Are there common misconceptions your prospects have about addressing the challenge?
How do your prospects decide whether the challenge should be prioritized?
In the Consideration stage, the prospective client has defined the challenge and are committed to addressing it. In this stage they spend time evaluating the possible solutions and methods to overcome the challenge. For the consideration stage try asking these questions:
What solutions do your prospective client investigate?
How do prospective clients educate themselves on the various solutions
How do they perceive the pros and cons of each solution?
How to they decide on the right solution?
The last stage of the Buyers Journey is the Decision stage. In this stage the prospective client has defined their challenge, chosen a solution, and now they are seeking to choose a provider. The questions to ask yourself and your team are:
What criteria do your prospective clients use to evaluate law firms?
When a prospect investigates your firms offerings, what do they like about compared to the alternatives? What concerns do they have with your offering?
Who needs to be involved in the decision? For each person involved, how does their perspective on the decision differ?
Do the prospective clients have expectations around going with your offering before they engage?
Outside of engaging with your firm, do buyers need to make additional preparations such as implementation plans or training?
Understanding your target audience and their behavior is invaluable to engaging with them in a conversation about hiring your firm. It is also critical to the content, social media, and paid strategies that I will outline below.
2. Develop SMART Goals
"So, I want to hit 3 million in revenue....wait no 5 million... better make it 4 million to be safe." This is conversation I have with myself when I start thinking about goals for ourselves and our clients. I am sure the same conversation comes about for many marketers. The fact is that a goal is just a thought without a plan to execute it. We have found that simply organizing the manner in which we state the goals, we create the manner in which to achieve them. The way we organize them is through S.M.A.R.T. Goals.
S.M.A.R.T. Stands for:
Specific: Set a number like website visitors, new contacts, new customers.
Measurable: The goal needs to be tracked, how are you going to do that?
Attainable: Ensure the goal is challenging but possible.
Realistic: Honesty... Ensure that your team is capable of it.
Time-bound: Deadline make things happen and you need one for your goal to be SMART!
Here is an example of a SMART goal we came up with for one of our clients.
⟩Our law firm wants to gain 200 new H1B clients before March 31st 2018.
So far, we have an understanding of our buyer persona, our buyers journey and we have developed our SMART goals. The following will outline the tactics we use to reach our goals.
3. Keywords: The Foundation of Your Content
People type, speak, or think a keyword into a search medium! (I am kidding about the think part, although it may be possible some day soon.)
Keywords are the foundation used for any search based Inbound Marketing Strategy. Someone can use Google, Bing, Facebook, or Twitter searches to educate themselves about a subject. These all start with a keyword topic in mind.
With that said, SEO has changed drastically in the last few years.
In the beginners guide to SEO , Moz, an internet renowned authoritative website on inbound marketing, states that keyword research is about getting the right kind of visitors to your site. They also state:
"The usefulness of this intelligence cannot be overstated; with keyword research you can predict shifts in demand, respond to changing market conditions, and produce the products, services, and content that web searchers are actively seeking. In the history of marketing, there has never been such a low barrier to entry in understanding the motivations of consumers in virtually any niche."
The importance of keyword research is often overlooked by law marketers but not you. Good job! The following is the shortened version of what we have learned to be an effective keyword research process:
Determine Relevancy
First, ensure that the keyword you are looking at is relevant to your buyer persona. A prospective client who is searching for a "divorce attorney" is not going to type in or say "immigration attorney."
Next, do a quick search on the search engines to obtain insight into what your competitors are doing. Review what they are ranking for, note if they are paying for AdWords, etc.
Understand Long Tail Keywords
Long tail keywords are a set of phrases that are made up several words to make the search more specific. Typically long tail keywords have a higher conversion that short, one word phrases. For example, someone typing in "attorney" may be in the mindset of understanding what the word "attorney" means. A long tail version of this search phrase would be "hire an attorney in Miami." The longer phrases typically signal better intent, therefore, converting more relevant visitors on a site.
Use Tools to Research your Keywords
Below are the tools you will need to complete your research
There are many more but these are five we trust the most and in our experience, give the best, most accurate data.
4. Develop a Paid Strategy
Paid Advertising is the quickest way to generate more visitors to your website, convert those visitors to contacts, and then turn those contacts into clients.
Here are the four platforms we use for delivery of paid advertising services for our law firm clients:
While all are effective at generating leads, there are differences between the platforms that determine the strategy for each.
Adwords and Bing Search ads are both "problem-centric." That means the that the searcher already understands the problem they have and is searching for a solution. Think of it as consideration stage and decision stage searches occur.
Facebook and LinkedIn allow for the advertiser to display ads to potential prospects by using their advance ad targeting solutions. I mean, Facebook knows everything about me, my favorite color, my favorite movies, that I am an immigrant born in another country, and much much more. An immigration attorney could have targeted me based on the fact that I was from Managua Nicaragua, but live in the United States. Connecting the information is the key to successfully targeting on Facebook.
On LinkedIn, you may advertise based on several categories associated with a Linkedin member. Some of those categories that may be useful to law firms are:
Geography
Relationship
Company
Industry
Company Headcount
Function
Title
Seniority Level
Postal Code
On LinkedIn, I have my entire work history, the brands I follow, the people I do business with. On Facebook, all my personal likes and friends. All this information make it so that marketers can target me based on my associated statements made willingly to both platforms. I know, I feel a little scared by it too, but do not fret, most inbound marketers are extremely ethical and will not use this information for evil. At least I won't, and I hope you will not either.
5. Conduct a Competitor Analysis
We touched on this a little during our discussion of keyword research but this a a more in-depth look at what your competitors are doing.
The purpose of a competitor analysis is discover key insights that will provide you with a better understanding of your customers, your brand, and potential gaps in the market place.
An effective competitor analysis helps you:
Identify your true competition
Perform a simple SWOT analyses
Determine and track metrics
Analyze results and create a plan
Here are the tools we use to complete the task:
HubSpot Competitor Tools
AHREfs
Buzzsumo
Here is a link to a useful kit to get you started with your very own competitor analysis.
6. Create a Content Marketing Plan
In this step, we begin to put it all together.
In this plan you will include:
S.W.O.T. Analysis of your current content
Visualize using the content matrix
Brainstorm your content titles
Create a Content Publishing Schedule
Re-purposed Content
1. A S.W.O.T. analysis will give you a baseline of where your content stands and what your content strategy will need in order to face the competition. The easiest way to start a content S.W.O.T. analysis is by downloading your content titles database and organizing it into the buyer's journey. We use the format below to organize the content and review our current standing.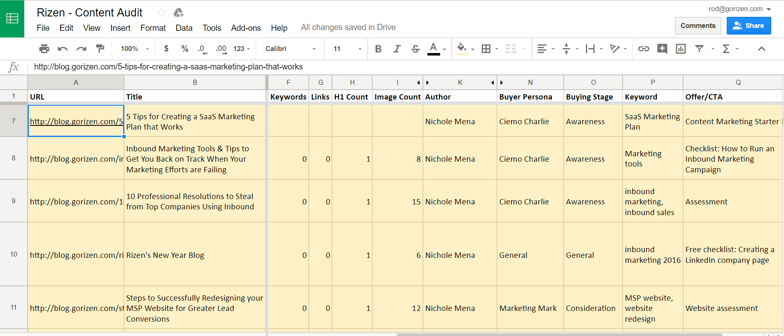 2. As you are reviewing you content on the the spreadsheet above, keep in mind how your content should be organized, how much of each content type you currently have, and want to have in order to attract the right client. Below is a useful graphic to get your content organized to set you up for digital success.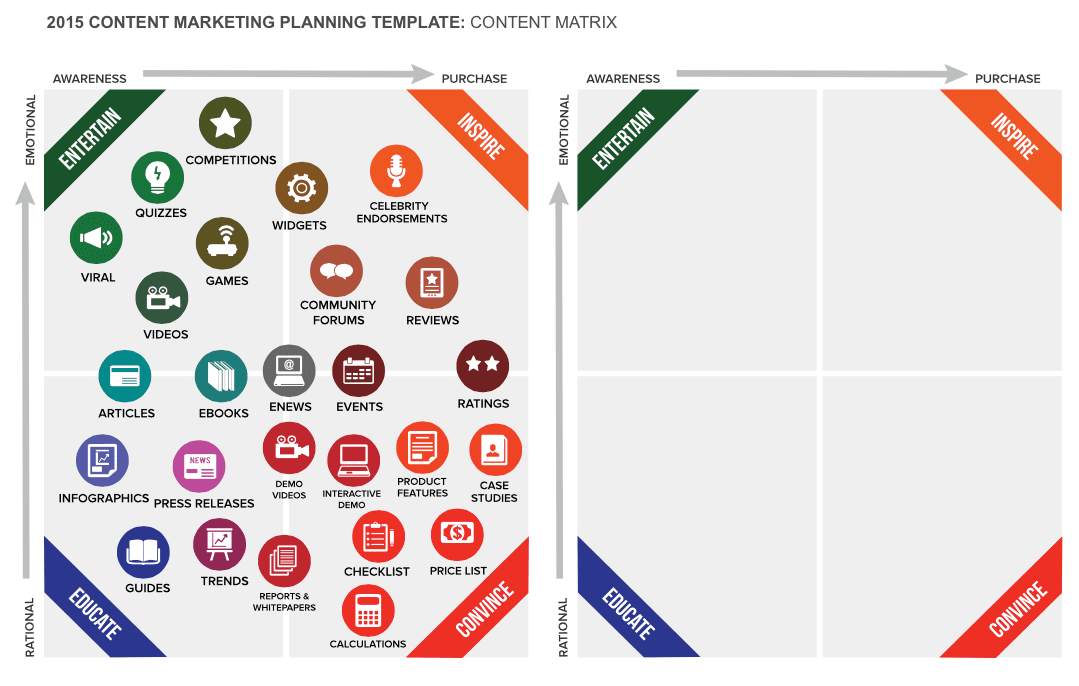 Source: Smart Insights
3. Next we focus on developing our potential content titles. We have discovered our gaps and now is the time to create the plan to fill them.
Both internally and with our clients we use several tools to come up with content titles, but first we review the types of content formats we want to create:
4. Creating a content publishing schedule
So you've gotten through some of the hardest part of you inbound marketing plan for you law firm. Here comes the easy part: organizing your content schedule!
In order to facilitate the consistent publishing of our content, we use a spreadsheet to organize the content production.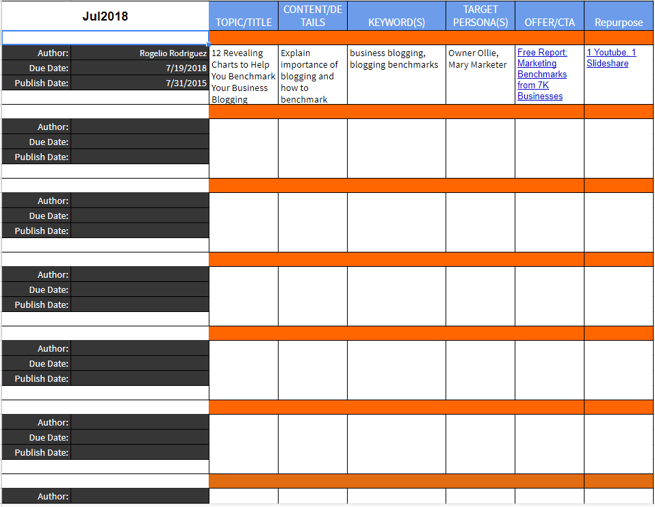 A shared document where the entire team can review and update the deadlines is paramount to implementing a content marketing strategy. In the example above you can see that we also plan on re-purposing the content once it is published.
Content Re-purposing
Content re-purposing is the adaptation of published work to fit a different medium. For example, I may re-purpose this blog post into a spreadsheet that my audience may download. Another example is re-purposing a series of blog posts into a series of podcasts or even a video series. The opportunities are as infinite as your imagination.
7. Search Engine Optimization(SEO)
Search has changed dramatically over the years. I know, I helped build an SEO company, I have experienced the shifts in search behavior and search engine updates for the last 13 years. Today we are experiencing a shift in the way search begins. In 2016, Google CEO Sundar Pichai, announce that 20% of queries on mobile came from voice searches.
Once we look at the numbers we can see the make up of the searches.
Source: Hubspot Blog
The visualization above comes from a study conducted by Ahrefs on long-tail keywords. As shown, 41.7% of queries are longer than 5 words.
What does that mean for you?
Well, when composing your content plan, it is best to focus on topics that are reinforced by subtopics related to your main pillar content. This does not mean that keywords are irrelevant but instead that your content quality needs to increase in order to get the opportunity to be read. The basic tenet of SEO remains the same. Follow the checklist below to ensure that the on-page optimization of your web pages is complete.
Crawl your site
Do an SEO audit and determine your site architecture
Update URLs, Page Titles, and Meta descriptions
Establish a value proposition
Define your target Audience
Plan new page titles
Add your new Meta Description
Track Topics for each page
Review and Edit Page content as needed.
In order to crawl your site use tools like:
Screaming Frog
Google Analytics
Hubspot Pages Tool
An audit is a great way to understand how much work it will take to get your competition ready. In order to conduct an audit, you will need to use a spreadsheet that allows you to organize your pages and sort them by several categories such as buyer persona, buying stage, CTA, Title Tags, Meta Description, Core Topic, and URLs.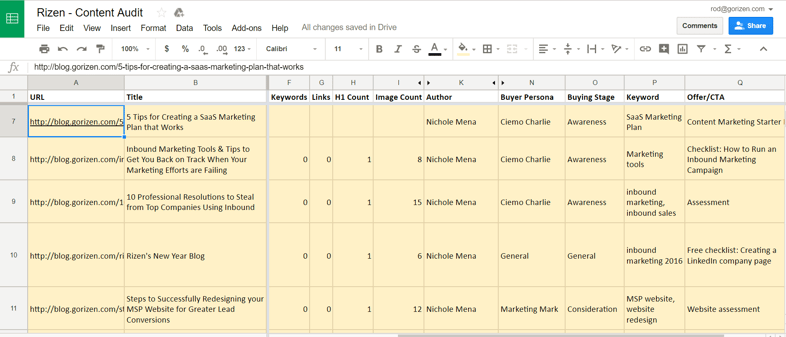 Once the audit is complete, you may then start to update your URLs, Page Titles, Meta Descriptions, and Alt tags to reflect your content strategy created earlier.
Next, establish a value proposition for each page. Yes, the purpose of each page. I know it may seem redundant because you already came up with your overall purpose for the existence of your firm, but many firms neglect this simple practice to focus each page as a solution to a specific challenge your client is facing.
As you establish your value proposition, prepare to segment each page with the relevant buyer persona you developed in the initial stages of your legal marketing plan.
Research Forums, Q&A Sites, Comment On Blogs
The final step in the SEO portion of your marketing plan to research where your audience consumes information and create a plan to add to those sites, communities and blogs.
Here are list of some of the sites that allow you to share your ideas and content links.
Quora.com
Lawyers.com
Justia.com
Avvo.com
Abovethelaw.com
Put a plan together to write on these websites. Share research or links to useful information. Preferably links to helpful content on your own site.
8. Social Media Marketing (SMM)
"Lawyers are not on social media"
"Social Media does not work for law firms"
"The bar restricts lawyers from interacting in social media."
Now that we have reviewed some myths, lets review the facts:
Source: MyCase.com
Social media use is only increasing year over year. More potential clients are spending a greater amount of time on online . Are you going to be there when they are searching?
After developing the content strategy and generating your first pieces of content, the fastest and most efficient way to distribute the content is through your social media channels. The social media channels you interact with depend on your analysis of where your buyer persona lives online.
For example:
If your buyer persona is corporate counsel, then research the groups on LinkedIn that involve corporate counsel. Here is a link to help get you started.
If your buyer persona is single mother who is recently divorced, then a Facebook group for moms may be the place to interact.
After choosing the right place to distribute your content, its time to organize it all in a manner where your team will be able to track the plan's progress. In the beginning, we used spreadsheet such as the one below: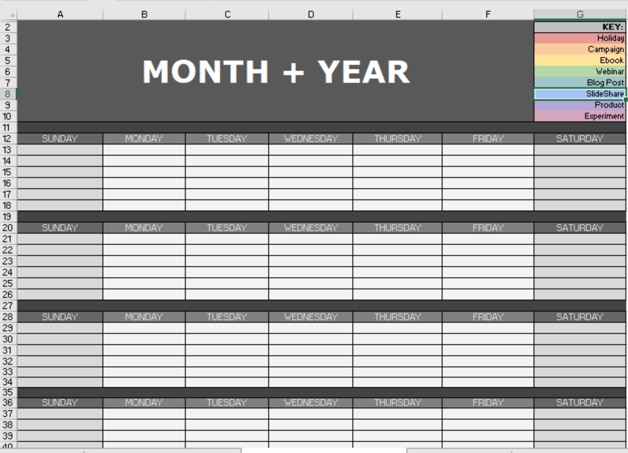 To download this and an entire social media marketing strategy kit, go here.
So far, you have identified the social channels you will interact with, created a plan to distribute your content, now the next step is to monitor your channels for comments or trending topics your audience is interested in.
Internally we manage monitoring using tools like the HubSpot Social Media Tool but there are several tools that help you achieve similar results.
Here are just a few that we like:
Social media is important for a law firm's continued relevance. If you want to stay competitive, create a plan and start implementing it.
9. Email Marketing
Did you know email has been around for over 45 years?
The first email was sent out using ARPANET, a military computer network, in the early 70's. Who would have ever thought that it would become one of the primary resources to get work done.
Email is critical to maintaining the relationship you started when your visitors first arrived on your website or met one of your law firm partners at a networking event.
Email helps:
Stay top of mind
Communicate special announcements
Provide industry updates
Revive past business relationships
In order to effectively run an email campaign we start with a plan.
Here is the steps we have outlined for our law firms:
Define the segment(Buyer Persona) you will communicate with
Determine the type of content
Upcoming events
Recaps/ Photos from past events
Popular posts on your Blog
News
New hires
3. Determine Frequency
4. Make a Schedule
Here is an email strategy kit developed by our marketing automation software partner, HubSpot.
10. Analysis and Reporting
Last but definitely not the least, you have to measure the success of your marketing plan.
How do you know you are being successful?
What tools do you need to measure your success?
What steps do you measure and which do you leave out?
What metrics do you report to the partners?
Here are the top 10 metrics we recommend you use to report on:
Sources
Visits-to-contacts
Blog Contacts by Source
Number of Contacts
Contact Life Cycle Funnel
Contacts by Conversion
Number of Marketing Qualified Contacts
Marketing Qualified Contacts by Source
Average Days to Close
Revenue
There are several other metrics that are important based on the goals you set. In order to determine the metrics for your firm, we advise you to analyze the steps that need to be taken to reach to your goals and determine the manner in which it will be tracked. In terms of tracking the progress, there are several software solutions that you can use to make it easier.
Our favorite, is Hubspot. In conjunction with HubSpot we recommend using Databox to track all other valuable metrics that are not tied to sales and marketing. Databox features the ability to bring all of your metrics into one dashboard which can be shared with the team, as well as with the public.
Here is what it may look like in your office: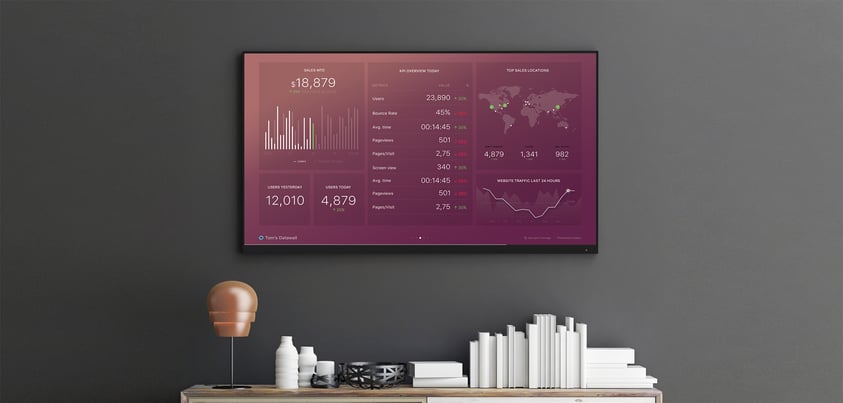 Other Tools To Measure your Success
All of which can be added to Databox Dashboards.
Ivan Misner, the "father of modern networking" taught us that what gets measured gets done!
That concludes our lucky 13-step plan to grow your law firm in 2018. Let us know your thoughts in the comments, we'd love to answer any questions you may have or provide more help where appropriate.