Read Time: 5 min
In 2016 Domino's Pizza was hit with a lawsuit claiming their website wasn't accessible for all customers.
The plaintiff, an individual with visual impairment, claimed he was unable to order a pizza online. Both the company's website and mobile app wouldn't work with his screen reading software. (courthousenews)
3 years and tens of tens of thousands of dollars later, a judge ruled in favor of the plaintiff, establishing a precedent for other businesses moving forward.
Since 2019, more than 2,200 similar lawsuits have been filed against businesses. (UsableNet)
If you have an online presence, you need to protect yourself from potential litigation. Let's look at if your brand is at risk and steps you can take to fall under ADA compliance guidelines.
What Does "ADA Compliant" Mean for Websites?
In 1990, President George Bush Sr. signed into law The Americans with Disabilities Act (ADA). This sweeping set of rules ensures that people with disabilities have the same access to opportunities as anyone else.
The bill, written in the Internet's infancy, doesn't specifically address website accessibility requirements for businesses. In Title III, however, the ADA:
"...prohibits discrimination on the basis of disabilities in places of public accommodations, commercial facilities, and private entities that offer certain examination and courses related to educational and occupational certification." (U.S. Dept of Justice)

Is My Business at Risk?
It's a complicated issue. The internet is so new and lawmakers are trying to keep up. 1.66 billion people around the world made online purchases in 2018, and this trend will only increase. (Statista)
With the recent spike in lawsuits related to business websites and ADA compliance, business owners need to pay attention.
If your business falls into the following categories, take immediate steps to ensure your website is ADA compliant:
If your business falls under Title I of the ADA, (those that operate 20 or more weeks per year with at least 15 full-time employees).
If your business clearly falls under Title III of the ADA, (those considered a "public accommodation").
For businesses outside of these two categories, it's mainly up to the courts to decide suits on a case-by-case basis. Our advice? It's better to be safe and make sure your website is accessible to everyone.
What Standards Makes My Website ADA Compliant?
The ADA itself does not include specific guidelines for what makes a website ADA compliant. The World Wide Web Consortium, which is like the United Nations of the Internet, released "Web Content Accessibility Guidelines" (WCAG) recently. It's the best tool to use to make sure your website meets important benchmarks.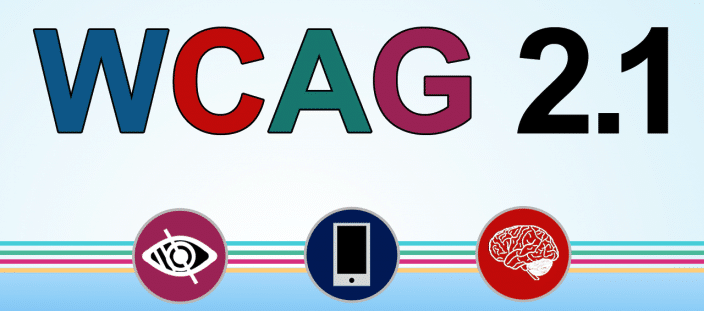 The WCAG rates your website based on 4 categories, using the P.O.U.R. acronym:
Is it (P)erceivable?
Is it (O)perable?
Is it (U)nderstandable?
Is it (R)obust?
Let's break down each category one by one, with some examples and solutions to show how your website can meet the standard.
Is it Perceivable?
Information and user interface components must be presentable to users in ways they can perceive.
Some examples include:
Individuals with vision or hearing issues rely on content being structured for easy navigation. Webpages need text styles that show the difference between a title, a subheader, or a bulleted list
A person with low-vision can't view a video on a website. Is there an option to access an audio description of the content? Is there alt-text on all images, which allows for audio description generation?
Steps you can take:
Talk to your website developer about using semantic HTML for all written text, which conveys more meaning to those who may only have one way to process information.
Ensure all images on your website contain "alt-text" descriptions.
Upload your website's videos to YouDescribe.org. This platform allows you to record audio descriptions for your video content for blind and low-vision users.
Is it Operable?
User interface components and navigation must be operable.
Some examples include:
Say a user can only use a keyboard - no mouse. You have your social media links at the bottom of your webpage. They can usually only be activated with a click of the mouse, so there needs to be another way to click this link, maybe with a keyboard command or using the tab key to move across the page.
An online form on your site asks a user to select multiple options from a drop-down menu. If the user presses the CTRL key and clicks the options with a mouse, there needs to be an alternate way to select them.
Steps you can take:
Add an accessibility widget to your site. Equalweb offers a free widget allowing users to adjust text color, font, and cursor size. In addition, users can highlight links and headers or see image descriptions. There is also a text reader that can be activated.
Is it Understandable?
Information and the operation of the user interface must be understandable.
Some examples include:
If every page on a website displays the same set of links in a different order, it slows down a user's ability to use and understand the flow of the site.

A registration form on your webpage requires users to add their email and phone number. When they try to submit the form they get an error, but it doesn't specify where the error is and how to fix it. Now the user cannot understand why the form can't be submitted.
Steps you can take:
Make sure your visual presentation is organized and uniform across your site.
Make sure error prompts are specific and working on all input areas on your site.
Checking for dead links is an important and easy place to start to meet this standard. Use the Online Broken Link Checker at brokenlinkcheck.com which scans your site for dead links for free.
Is it Robust?
Users should have a choice in which technology they use to interact with websites, media, online documents, etc.
Some examples include:
A visitor using assistive technology (such as magnification or text-to-speech) finds your website doesn't work with their software.
Steps you can take:
While this principle is the most technical, have a conversation with your web developer to ensure your markup language content has complete start and end tags, is nested according to the specifications, they don't have any duplicate attributes, and the IDs you use are unique.

If user interfaces are custom-built, they meet the same standards for compatibility as all other markup and programming languages on the internet.
Don't Get Overwhelmed - Just Begin the Process
Big changes to laws as expansive as the ADA will probably be slow to evolve, but the potential for lawsuits is very real for businesses. Luckily, there are clear guidelines to follow to ensure your website becomes ADA compliant.
These changes can be complicated and time-consuming to implement. Don't let these obstacles stop you. A business in the process of moving into compliance will be viewed more favorably than one ignoring these requirements entirely.
Most importantly, remember that every user deserves a full, robust experience when interacting with your brand. Begin building meaningful relationships by creating an all-inclusive business philosophy. Every customer matters. It's the inbound way.

If you're looking for support with making your website ADA compliant, contact Rizen Inbound. We're an experienced, friendly, results-driven marketing firm who can help your business reach new heights.
Learn more about 21st-century business growth with our Inbound Academy resources, which include articles, videos, and our weekly podcast.
Contact us when you're ready to begin a conversation. We can't wait to hear from you!