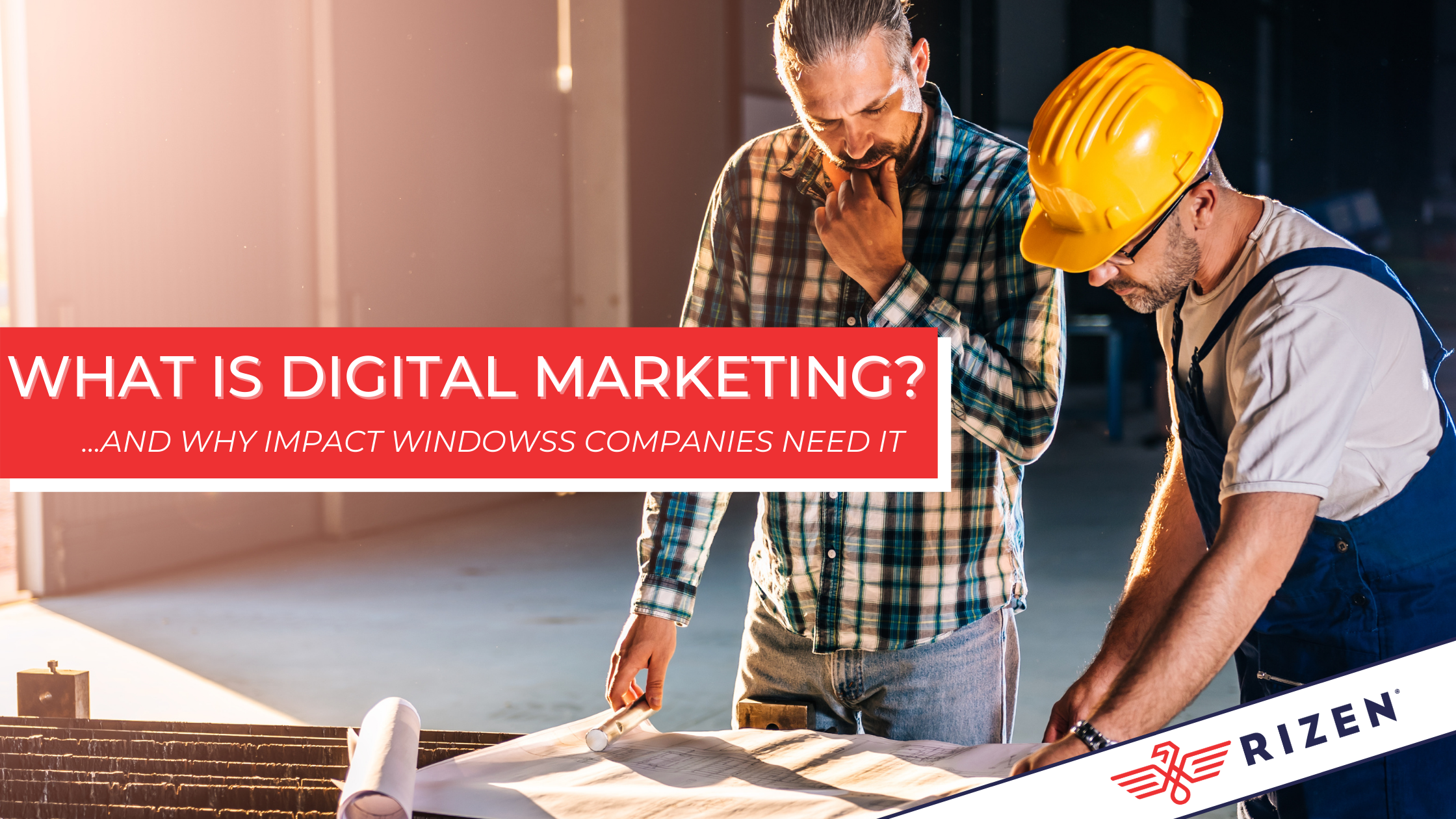 When we ask owners of impact windows companies about generating leads, most admit using traditional advertising or referrals. However, in 2021, many small businesses are starting to embrace a more effective approach - digital marketing.
What is digital marketing? This post will walk you through it and teach you how to reap its benefits. But first, let's dive into a basic definition of digital marketing and how it differs from other strategies.
Digital Marketing vs. Traditional Marketing
First things first, let's explain the difference between digital marketing and traditional marketing.
What is Digital Marketing?
Digital marketing includes all strategies that leverage the internet or a mobile device such as a phone or laptop. For example, home services companies can leverage digital channels to target internet users on social media, email, search engines, and more.
What is Traditional Marketing?
In contrast, traditional marketing includes all strategies that are not online. For example, businesses using a conventional marketing approach leverage print, phone calls, direct mail, and billboards.
What Marketing Strategy is Better?
Ah, the age-old question. While traditional marketing can play a role in reaching local customers, the number of internet users increases every day. Over 4.5 billion people now use the internet and do more things online than ever before (TNW).
Especially after the COVID-19 pandemic, the way customers interact with businesses has changed. As a result, traditional marketing isn't as effective as it once was.
The Key Takeaway:

💡
The main goal of marketing is to connect with potential customers in the right place, at the right time. Impact window companies need to meet homeowners where they are spending the most time: online.

Types of Digital Marketing
When it comes to types of online marketing strategies, your options are endless. In this section, I'll cover the most popular digital marketing channels for home services companies.
1) Search Engine Optimization (SEO)
SEO describes the process of strategically writing website content so that it ranks high in search engine results pages (SERP).
Popular search engine optimization techniques include:
Conducting keyword research to discover common words or phrases your target audience is looking for to solve a problem.
Writing long-form content based on popular keywords to rank high in seach engine results.
Increasing your website load times and continually tweaking user experience to please audiences.
The marketing channels that benefit from these SEO best practices are websites, blogs, and infographics.
2) Inbound Marketing
Inbound marketing utilizes content marketing, email marketing, and social media to attract customers at every stage of their journey. As a result, inbound marketing helps improve brand awareness and attract new business.
This type of digital media focuses on letting potential customers come to you. Meanwhile, outbound marketing strategies interact with different audiences regardless of if they need your products and services.
Here are some classic examples of inbound marketing versus outbound marketing:
Paid search marketing vs. cold calling
Content marketing vs. media buying
Opt-in email contact lists vs. email spam
3) Affiliate Marketing
Affiliate marketing allows businesses to earn a commission when promoting another brand's products and services on their website.
For example, say your impact windows company signed up for an affiliate marketing program with Amazon. A content marketer writes a blog post on DIY home repairs that features links to tools homeowners can buy on Amazon.
A reader clicks on the link from your post and purchases a hammer. You then earn a commission on the purchased product.
4) Native Advertising
Native advertising is a type of sponsored content that matches the look and appearance of the webpage the ad appears on. Common examples include a Facebook newsfeed ad or sponsored posts on news websites.
The benefit of this form of digital marketing is that it is non-disruptive. Unlike banner ads on a webpage, native advertising blends in with the editorial flow of the page. If done well, they don't even look like ads, making it appear more organic for internet users.
Actionable Tip:

👍

With so many digital marketing strategies to choose from, it's impossible to know what will be the most advantageous for your small business. We share our expert recommendations in the blog post, What Home Services Marketing Strategies Actually Work in 2021?

Does Digital Marketing Work?
Yes. Full stop. Okay, next section.
We can sit here and tell you how great digital marketing works for small businesses, but who's to say we're right? So instead, I'm going to rely on third-party data to support our claims.
Here are a handful of statistics showcasing the power of online marketing. They'll touch on various digital marketing channels such as SEO, content marketing, email marketing, and more.
78% of salespeople using social media perform better than their peers. (Screwpile Communications)
On average, email marketing has a 4400% ROI. (OptinMonster)
66% of people say that email nurturing was the best way to re-engage leads. (Databox)
72% of online marketers describe content creation as their most effective SEO tactic. (isitwp)
78% of Internet users conduct product research online.
The number of marketers who say Facebook is "critical" or "important" to their business has increased 83% in just two years.
You can expect about 67% more leads every month if your brand has a blog (compared to ones that don't!).
70% of internet users want to learn about products through content versus traditional advertisements.
Actionable Tip:

👍

Need more social proof of digital marketing creating enormous benefits for small businesses? Read from our list of real-world case studies where we share results of online marketing.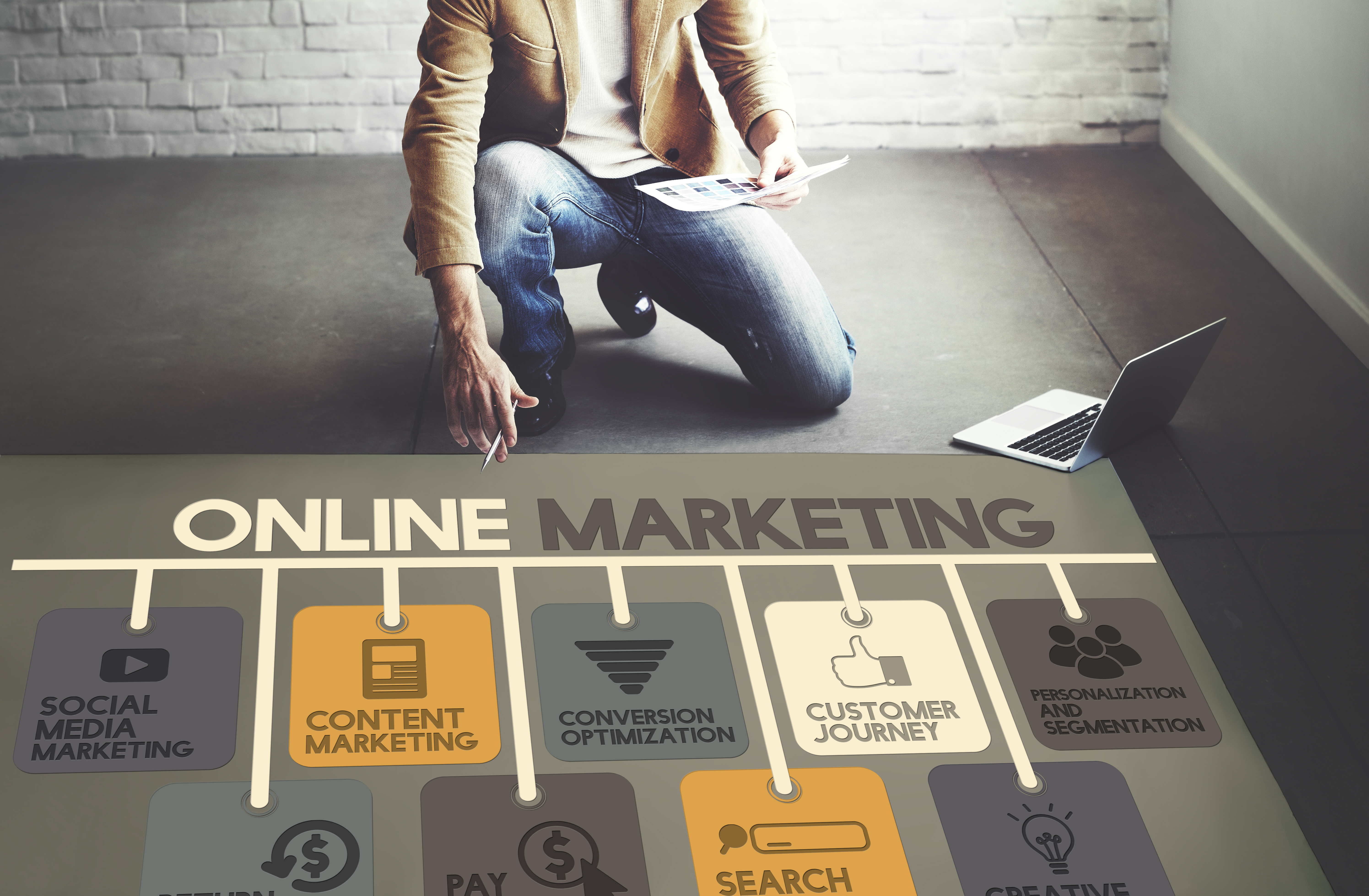 What a Digital Marketing Campaign Looks Like
The objective of an online marketing campaign is to drive leads, conversions, and revenue. Here is an example of a home services company that did just that.
Alco Windows and Doors, an impact windows company in Miami, Florida, struggled to generate enough leads to scale their organization. Their team never explored paid advertising or allotted resources to produce content optimized for search engines.
The digital marketing campaign recommended and executed by Rizen included:
An SEO-blogging strategy that snags users conducting web searches to your website.
A dedicated social media marketer focusing on creating a targeted communication strategy and growing a fan base.
A pay-per-click (PPC) and remarketing campaign on Google AdWords to instantly start generating leads.
An email marketing workflow via Hubspot to organize their database and create a systematic process for contacting new leads.
As a result of the digital marketing campaign, the impact windows company generated over 8,000 leads with a 20X growth in revenue.
Actionable Tip:

👍

Today's homeowners have changed how they research new services and products. Creating a multi-pronged digital marketing approach assures you reach them at every point in their buyer journey.
Why Impact Windows Companies Need Online Marketing
Digital marketing channels help impact windows companies reach more potential customers than possible with traditional advertising.
Better yet, you can target the exact buyer persona more likely to convert into a sale. This approach continues to prove to be more superior to billboards or flyers that get wasted on an uninterested audience.
Lastly, studies have shown digital marketing channels are more cost-effective. For instance, content marketing cost is 62% less than traditional methods (Digital Third Coast). Additionally, marketers who prioritize blogging are 13x more likely to achieve a positive ROI from their efforts (SERP Watch).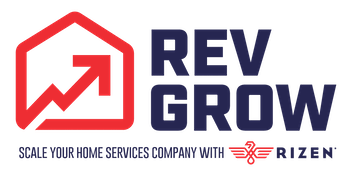 Ready to give digital marketing a try? The team at Rizen is prepared to help. Whether it be through our many free resources or hiring our team of senior marketing professionals - we're here for you. Get in touch with us by filling out an online form or calling us at (305) 548-8464.