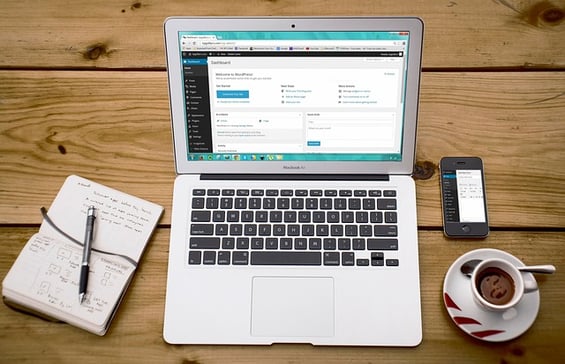 Your website is a very important piece of real estate for your business. Its the digital storefront of what you sell and do. We'll cover the key elements an MSP website should have, but in reality these points applies to every website.
1. A Blog
One of the most beneficial aspects of inbound marketing is that you can directly target people who will actually be interested in your MSP and/or IT services. The easiest and most effective way to do this is by creating a blog on your website and publishing posts to it on a regular basis.
In order to create posts that will impress your visitors (and the search engines), you must first know who your ideal visitor actually is. There are many ways to find out this out, but the first step should be to create what is called a buyer persona.
To figure out who your ideal customer is and what they are looking for, start researching past, present, and even potential clients. Ask them key questions about their online activity, IT needs, and any current problems they are experiencing. There are sheets we have created to help you through this process.
After identifying trends among this select group, create helpful and informative content on your blog that will address their stage in the buying process.
2. Social Media Activity
Social media can be an incredibly powerful marketing tool for IT businesses, as long as you use it correctly.
Make sure you have an account on every platform that is relevant including Facebook, Twitter, Google+, and LinkedIn. Then, add the corresponding buttons to every page of your website. Doing so will encourage visitors to follow and engage with your postings.
Build your reputation in the field by reaching out to prominent IT professionals, small businesses, and other potential clients who might be interested in your services.
Then, share posts that your followers will find interesting and/or helpful. Also, make sure to promote the creative content you are publishing on your blog. This will generate leads and help you become recognized as an authority figure in MSP.

3. Metrics
Install Google Analytics and connect your account to your website. We personally view most metrics from our marketing automation software of choice. Tracking numbers and metrics will allow you to make strategic changes depending on your results.
Just remember, not all metrics are created equal. As a managed service provider, you should be tracking the following:
Customer Acquistion Rate
Cost Per Lead (CPL)
Conversions (Leads - Form / Purchases / Phone Calls / Email Letter Subscriptions)
Return on Investment
Traffic and Traffic Sources
Social Media Engagement
Keyword Rankings
4. Optimized and Responsive Design
People worldwide are using their mobile devices to do research and look at your website. It is extremely important to optimize your website design for cell phones, tablets and different monitors.
Using a responsive and clean WordPress theme can go a long way in optimizing your site. You can also use Hubspot's COS for your design to better track your metrics within the Hubspot environment.
One Wordpress template that we recommend is the Divi template from Elegant Themes, a responsive and 100% customizable design that is both simple and highly functional.
5. Testimonials and Case Studies
Every MSP website should contain a variety of testimonials and/or case studies. A picture of a person with a quote underneath is not a good example of a testimonial, as many times people find them to be fake. Instead, a video of a client sharing their experience is better.
A case study is another great form of collateral that every website should have. An example case study can be a house before being remodeled with explanations of what was done and after pictures of the end results. For a service industry, look at how we created a case study of what we did for the client.
Most consumers will want to know what other people are saying about your business before making their decision. A testimonial and case study is social proof and proves that you can deliver. Make this information easy to find by posting them on your website.
6. On-Page SEO
It's important to get your on-page correct. When implementing the right SEO elements on the pages of your website, you will ensure that the traffic you get not only converts but will also be regarding as high quality by the search engines.
Every MSP website should include the following on-page elements:
Original keywords with traffic for every URL
Title Tags / Meta Description Tags / H Tags
Internal links when appropriate
Outbound links to references when appropriate
Social media buttons
Optimized images / Alt tags
Videos when appropriate
Bullet Points for Key Facts (people scan when they read)
Headers separating your content with keywords
7. Call-To-Actions and Lead Capture Forms
Every page should have a call-to-action. An example of a simple call-to-action is a button that says "Call TODAY for a FREE Analysis." When a visitor clicks on this button, it should lead them to a form that captures their name, phone, and email address - at minimum.
A more advanced example of a call-to-action could be an offer to "Download our FREE Checklist on How to Shop for an MSP Provider." In this case, your providing something valuable in exchange for their contact information.
8. Trust Symbols
Many businesses have certifications and licenses that are important to their industry. It's important to showcase these as badges on your website in a prominent manner. For example, if you have an A+ rating for the Better Business Beureau, show people. In addition, if your certified with Cisco, Novell and Microsoft, showcase this as well as it identifies you as an expert at what you do.
There are other factors that are important to have on your MSP website, but we've focused on the key elements that drive leads and sales, the most critical aspect for business owners.
To further explore on-page SEO, along with other inbound marketing strategies, check out our helpful eBook.