I have been in sales since I can remember. From pitching my parents my need for a G.I. Joe toy to selling chocolate at Beach High and then cold calling as a loan officer at a bank. My selling experience has helped me grow through my years as an entrepreneur. Along with my experience I have had the opportunity to learn from some of the world's best sales people. At my last agency, I learned from a student of Jordan Belfort (Yes, the wolf of Wall Street). Since then, I have used the straight line persuasion method to grow our agency to where it is.
Most recently I had the opportunity to team up with Hubspot's Dan Tyre and David Weinhaus to be a part of their Pipeline Generation and Sales Skills Bootcamps respectively. The following is the story of how we used these opportunities to develop and execute a plan to reach our goal of becoming a Gold Agency Partner with HubSpot.
The Journey To Refine my Sales Skills with David Weinhaus
Our journey started last year, I had a solid pipeline at the time, the Wolf of Wall Street style persuasion method was working at helping us generate a consistent pipeline. So I decided that the best and shortest route to our objective was to brush up on my sales skills in the exploratory and goal setting phases of our sales process. I submitted my application online and crossed my fingers that I would be accepted into the program. A few weeks later I received a calendar invite from the legend himself, David Weinhaus.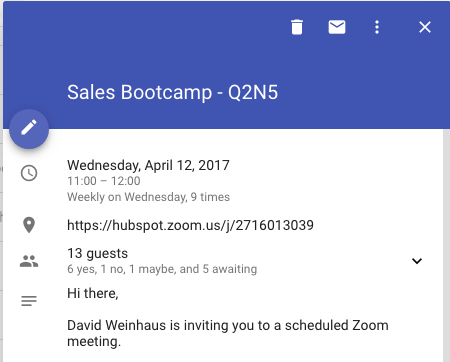 Needless to say, I was excited.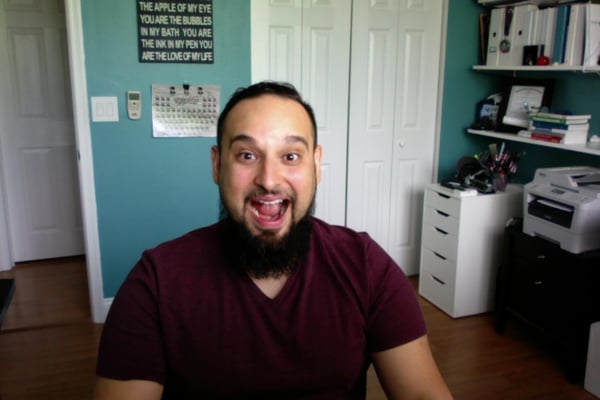 Here is what I was excited about:
Defining my sales story
Finding the Gap
Selling Value
Exploratory Call Fundamentals
Role Playing
Goal Setting and Planning
Closing and Handling Objections
Shortly after completing the bootcamp, we closed our biggest retainer ever at 10k+ a month. The eight weeks was totally worth the time and effort. I was able to refine my skills and close business quickly. I would recommend the Sales Skills bootcamp to any partner agency that is looking to improve their conversion from opportunity to customer.
BOOM! Dan Tyre and the Journey to Generate a Giant Pipeline
Towards the end of of last year, I started noticing that my approach of calling businesses to generate new business was becoming less and less effective. I realized that the messaging was no longer resonating with people I was calling on. My pipeline suffered. My agency suffered. We were sad.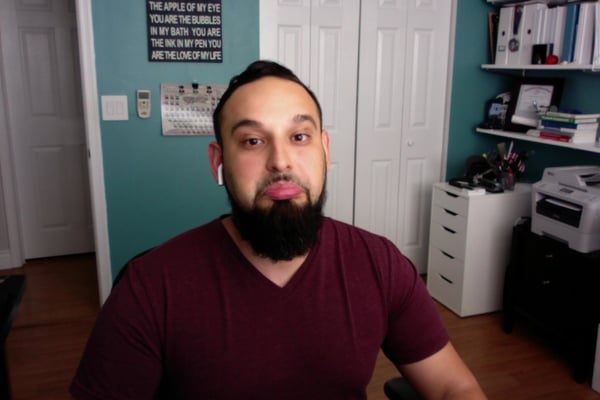 I knew there was an opportunity to improve, I heard that Dan Tyre was hosting a series of Pipeline Generation Bootcamps. The ever so helpful, Jonathan Valdez (Our HubSpot Channel Account Manager) sent me a link and put in a good word for us.
Once again, I filled out the form, I crossed my fingers, and waited for the response to see if I got in...
This time, it was a little different: I booked an interview with Dan Tyre. I have to admit, I was a bit nervous, I had seen the results of the bootcamp at Partner Day during Inbound the previous September and I only hoped I had the ability to at least equal those results.
The interview went great but it did not mean that I was in yet. He wants to test the determination of the applicants.
He requested 4 things:
To follow up via email
In the email, restate that I was committing to 1 hour a day of work for 8 weeks.
Provide a link to my inbound certification
Provide a link to my inbound sales certification
So naturally, I sent him the email below: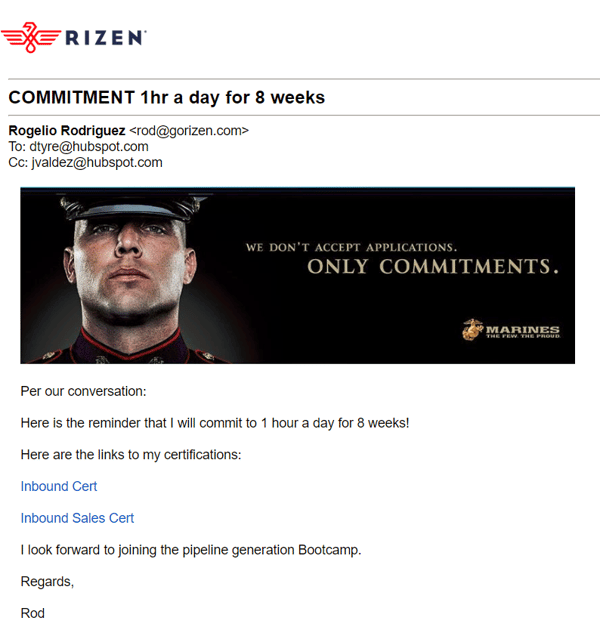 With that email, I was in!
Here is what I received for my participation:
Motivation
Calling Skills
Accountbility
A Monster Pipeline!
Motivation is the key to success... At the very start of the bootcamp my member agency cohorts and I developed our vision boards and worked on discovering our "why. " The foundation for the our success was built on simple principles but very very effective.
When I first joined the group, I had it in my head that I was a pretty good cold caller. After all, I spent several years with a mandatory daily 3 hour cold calling hours as a loan officer for a bank. Fear was not what held me back. What held me back was the my messaging. Dan did an amazing job at helping us hone our agencies positioning statement. Check it out below:
We work with law firms who are looking to aggressively grow but are frustrated by the lack of new clients they generate from their digital marketing efforts. We offer inbound marketing services that provide a proven digital methodology to grow a law practice. We are unique in that we understand how law practices operate and use our knowledge of the business side of practices to help clients like you succeed.
In addition to creating the agency positioning statement we also developed the following skills:
Connect Call Basics (Including an awesome script)
Prospecting Emails (with templates!)
Use of HubSpot CRM
Answering Objections
Role Plays
Each of these elements played a pivotal role in helping our agency fine tune our sales process and position us for growth. At the end of the program we were able to reach the Gold Tier on HubSpot's Certified Agency Program.
The last two pieces I want to mention are the amazing agency members that I joined on the bootcamp and the pipeline. I learned from other agencies, some larger, some smaller, but all experts in their respective niches and fields. I was held accountable by them, coached by them, and I now consider some mentors. The accountability made building a consistent pipeline, easy. Today I work closely with our Channel Account Manager at HubSpot and maintain a similar accountability relationship on a monthly basis. I used the skills I learned both at the agency as well as with clients. It has enabled us to offer an added service to our clients, one that allows us to stand out from the competition.
I highly recommend the sales skills bootcamps to any agency that is looking to grow. You will not be disappointed. Your pipeline and revenue will thank you.
If you are not an agency but are intrigued to learn how to optimize your sales process and evolve it to how the modern customer engages, just give us a call. We are happy to help.