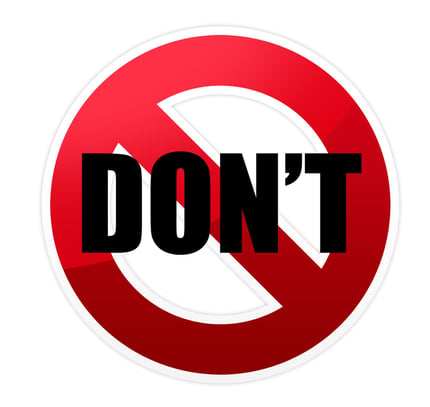 When you are new to digital marketing for MSP's, one of the biggest challenges is knowing what are the best practices and, equally important, what are potentially bad practices. To ensure that your digital marketing strategy takes off on the right foot, here a few tactics that you should definitely avoid.
1. Market to Everyone
As much as we want to believe that everyone could benefit from your products or services, this is never the case. If you try to target too large an audience, you will only end up creating generic content that no one appreciates or needs. A far better approach is to develop buyer personas that represent each segment of your customer base.
Develop your personas around relevant demographics, needs, wishes, and goals of actual customers and prospects. This may include job title, job responsibilities, industry, company size, skills and knowledge and Internet activity. You can gain this information by studying your target market with website forms, interviews, contact data, and even feedback from your sales team.
2. Present Everyone with the Same Content
As you will see from your diverse buyer personas, your customers and prospects have very different needs, meaning content that is very useful for one person may be boring and unhelpful to another. Use an editorial calendar for your blog posts to ensure you publish a balance of content for every person at every stage in the buying process.
3. Waste Time on Social Media
The huge number of social media platforms is constantly growing, and each site requires a slightly different strategy for success, including the type of content you publish, when you post, and posting frequency. It is overwhelming for all but the largest corporations to handle many platforms; for most brands, the best option is to learn where your target market resides and stick to those sites. Here is a summary of the top five:
Facebook. As of July 2015, Facebook has retained its status as the most popular networking site, with an estimated 900,000,000 unique monthly visitors, according to eBizMBA. If you want to make an impact in digital marketing, you need to be on Facebook, whatever your industry.
Twitter. Use this site if you are publishing breaking news, to link to business updates, or if want to start conversations with your audience. To use Twitter effectively, you must be prepared to reply quickly.
LinkedIn. This is a particularly good option for B2B companies who want to capture the attention of professionals. The groups, where you can answer questions and share advice, also make LinkedIn beneficial for local businesses.
YouTube. If you are making videos as part of your MSP digital marketing strategy, increase your visibility further by posting all your clips to YouTube.
Pinterest. Consider Pinterest if your target audience is mainly female and if you specialize in visually-appealing products or services.
4. Creating Generic Calls-to-Action and Landing Pages
A single CTA and landing page for all your content and ads is likely to come across as pushy or irrelevant, reducing your chances of a conversion. Be specific in your calls-to-action, telling your audience exactly why they should click and explain how they will benefit from taking action.
5. Neglecting Tracking and Testing
It is impossible to know how users are engaging with your website, content, and ads without tracking engagement. You may believe that you have created great content for your target personas, are utilizing all the right social media platforms, have avoided generic landing pages, and are producing effective CTAs — but how can you be sure?
Firstly, you need to test every detail. It may seem like a timesaver to rely on the results of others, but what will work best for your site is unique, warns Login Radius. The best option, therefore, is A/B testing, with which you can test everything from layout and color to the exact wording on buttons.
Secondly, you need to track basic metrics on a regular basis. Here are a few that you must not neglect:
Page views and unique visitors. A higher number of page views than unique visitors implies that users are returning for more.
Search engine traffic. This demonstrates the effectiveness of your SEO efforts.
Bounce rate. If more than 40 percent of people are leaving your site immediately, you need to make improvements to your content.
Conversion rate. Between 2 and 3 percent is good, but you should aim for a conversion rate of 5 percent, advises Content Marketing Institute.
All this may sound like a lot to take into account, especially if you are only just beginning with a MSP digital marketing campaign. However, provided you steer clear of all the most common mistakes, you can be successful and see significant improvements to your conversion rate and revenue.
Not Sure Where to Get Started? Download Our Free eBook on 17 SEO Myths you Should Leave Behind!