Any successful content strategy needs to include video. Diversity is important in reaching audiences with different consumption preferences. If you're only publishing written content, you're restricting your reach! Video is a HUGE attention grabber, especially when paired with social media. We've seen incredible growth in social video marketing in the past few years, and you can take advantage of this combination as well.

What is Social Video Marketing?
Social video marketing is a type of content strategy aimed at creating footage meant for distribution on social media channels like Facebook, Instagram, Twitter, and Youtube. They are short-form, focused on a specific audience, and contain a call-to-action to motivate sharing with others.
And social media makes this easy to do - as in "one click" easy for audiences to share a video with their extended network. Instead of housing longer-form video on your website (this is important too, just in a different way), social video is about creating an impression on the viewer and motivating them to share with others.
Need an example of effective social video marketing? Let's look at the content published by the food-focused media brand Tasty.
Tasty is a master of content diversity, as they use blog posts, infographics, GIFs, short-form video, long-form video, and even live webcasts to promote their library of recipes and culinary-inspired products.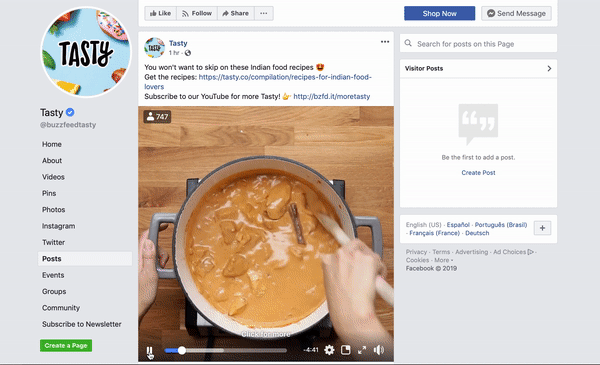 Their Facebook page is the perfect example of social video marketing done right. Take the example below. A video for a butter chicken recipe, only 5 minutes long, provides a basic overview of the process with a link to a page containing further written information on recipe ingredients and cooking steps. The content is easily shareable and available on multiple social platforms.
Tasty follows the rules of effective social video marketing:
Short-form content
Focused on a specific audience
Motivates sharing with others
Effects of Social Video Marketing
Data from multiple marketing sources illustrates the effectiveness of creating video optimized for social media. For example, according to a 2018 study from the video marketing firm Wyzowl:
74% of users who watched an explainer video to learn more about a product or service subsequently bought it.
70% of users say they have shared a brand's video with a friend, or on their social media channels.
77% of consumers say they've been convinced to buy a product or service by watching a video.
Additional studies from Belgium-based Video Marketing Firm Moovly illustrates the impact of video on a company's overall search engine results:
You are 53x more likely show up on page 1 of Google if you have a video embedded on your website.
The data supports video as an important part of your content strategy. By placing these assets on your social media pages, you increase your chances of being part of the global conversation.
So where to start? Jumpstart your social video marketing with these 3 steps from Rizen. Take time to focus on quality and watch your audience reach and overall sales leads increase!
1) Record Video. Right From Your Phone.
If you have the resources to invest in professional equipment from Red or Blackmagic - go for it! These tools are amazing in the hands of experienced videographers, and add an extra layer of polish and professionalism to your content.
If you're just starting out with video and don't have experience with advanced camera features and techniques, save your money and pull out your smartphone. You'd be amazed at the quality you can achieve just from a quality script, some lighting, and a steady hand with the device right in your pocket!
Need an example of video marketing done with basic tools? Look no further than Postmates, the popular home delivery service. This spunky startup grabbed a few...affordable (I'm being nice here) celebrities, an iphone, and started shooting video.
Were they of studio quality? Not even close. But the videos had some humor, a clear message, and an easy way for interested customers to engage with their service. They could download the app right from the same screen! Now they feature A-list celebrities and high-quality video spots. But they had to start somewhere.
That's the power of social video marketing. You can do this too!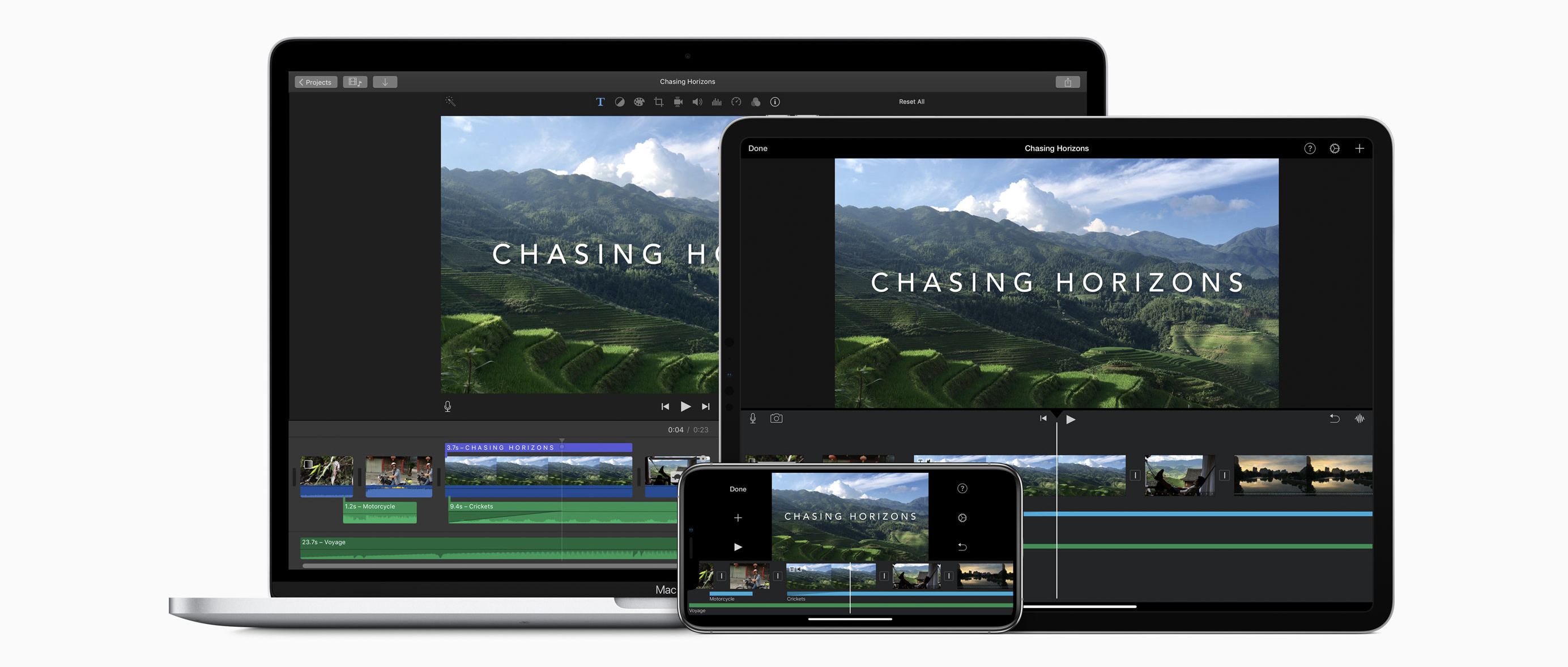 2) Use a Video Editor Optimized for Social Engagement
Before dropping hundreds of dollars on Final Cut Pro or Adobe Premiere, again, look at the experience level of your marketing team before making any purchases. More importantly, look at the features you NEED to create videos optimized for social marketing. The list shouldn't be long - something that can handle videos up to five minutes, has eye-grabbing effects features, and can share right to social platforms. A simple solution should be more than enough.
There are dedicated video editors optimized for short marketing videos. Magisto is a browser-based editor that comes with hundreds of templates for pretty much every industry, along with stock photos and audio you can drag and drop in with your own footage to create compelling content.
At $9.99 a month, you'll get video exports up to 5 minutes long in 720p quality.
Looking for a free option? If you're a Mac user, try iMovie. There's a strong set of features right in the software, including stock audio clips, interactive text, and eye-pleasing transitions to make your videos look awesome.
If you're a Windows user, consider Shotcut as a free option for editing your video footage. The interface is simple and intuitive, with plenty of filters and special effects to apply.
No matter your choice, once you've finished editing and exporting your marketing video, now it's time to optimize it for search in the same way you do for written content.
3) Optimize Your Video Content for Search
Just like your written content, it's important to optimize videos for search engines so you'll rank higher and gain more visibility. To do this effectively, many of the same SEO practices come into play, you just need to know where to apply these techniques. These four areas should be the basic optimization steps you'll want to take before publishing any of your videos to social media:
Optimize the video's title to be catchy and contain the keywords you want to rank for.
Use keywords in the video's description section. Remember, search engines can't read images or video, so you need to help provide the text to properly classify your content.
Upload video to each respective platform instead of just linking from one location. Most social media sites will give you a boost in search results if your content was uploaded to their servers rather than linked from elsewhere. According to Wipster, Twitter's native videos get 2.5 times more replies, 2.8 times more Retweets, and 1.9 times more likes than linked video.

Get Social With Your Videos Today
While it's incredibly important to produce quality video content to attract audiences, that doesn't mean waiting until you have the latest equipment and Steven Spielberg on retainer. You can start today, and your content strategies will be better for it. Use the tools at your disposal and grow your resources over time as your skills and company do the same.
If you're interested in hiring a quality, team-focused company to create some awesome video content for your organization, consider Rizen. We're an inbound agency focused on helping our clients grow relationships with their customers by creating some crazy, cool content. Contact us today to begin a conversation!