I was recently talking to a prospect, now a client, about his frustration with the countless marketing companies promising to help increase their online presence. He spoke with an SEO company that ranked very well for "SEO" industry keywords but who didn't offer social media, email marketing, or Pay Per Click. Although, he understood the value of SEO companies, he also knew that he could generate fast business with Pay Per Click. He spoke to a Social Media expert with over 10,000 followers that only focused on Facebook and Twitter. The large Pay Per Click company he spoke to didn't offer Facebook PPC. Here inlays the problem. Most businesses hire separate contractors from different companies to do most or some of the activities, leading to broken messaging with no defined goals for business growth. Inbound marketing agencies, however, do all of the above and more using a proven methodology to increase traffic, leads and sales. Inbound agencies include SEO and other core tactics, but as a part of an overall strategy using the Inbound Methodology.
Understanding the Inbound Methodology as a Whole. What is Inbound Marketing?
Inbound marketing, per Wikipedia, "is the promotion of a company or organization through blogs, podcasts, videos, eBooks, newsletters, whitepapers, paid advertising, SEO, social media and other forms of content marketing to serve and attract customers through the different stages of the purchase funnel (more on this later)." The goal is for customers to find your website through any and all relevant online mediums and then having them perform a specific action, such as filling out a form with their information, to receive an offer. The content you provide and action you want them to take is dependent upon what part of the funnel they are in, such as ready to buy, looking for more information, or considering you among other companies.
At its core, Inbound marketing involves creating content that will be of use to a visitor depending on where they are in the Buyer's Journey.
Another component in the inbound methodology is nurturing your visitors into potential customers. Let's say a visitor doesn't purchase anything right away but you've collected their information via a form they filled out for a download. You now have a way to get in touch with them in the future. Also dependent on where they are in the funnel, you may want to email them with more targeted information in regards to a product or service they were looking into on your website. There are certain software's (more on that later) that you can use to categorize your leads based on their actions, behavioral patterns, and interests, giving you insight so that you may target offers and messages specific to them.
Even after a visitor becomes a customer, keeping in touch with them has the potential to turn them into a repeat buyer or they can refer new business. By using information gleaned from what they bought from you in the past, you can effectively target them with products or services they might be interested in later. You can also use social media interactions to get word-of-mouth promoters, turning your customers into an extension of your marketing team, helping to draw in new visitors and customers.
SEO as a Tactic of Inbound Marketing
Search engine optimization (SEO) is a tactic used to increase a website's keyword / phrase search engine ranking positions (SERPs). Theoretically, if a website's keywords are higher up on a visitor's search engine query, it should help drive traffic and thus revenue to your business. SEO companies focus just on doing this, ignoring other opportunities that allow a business' website to improve the company's bottom line. Inbound Marketing agencies focus on a more encompassing strategy (more below) to improve the performance of your web properties. SEO does play a role in the Inbound Marketing methodology, but as part of the BIGGER PICTURE as opposed to a SINGULAR FOCUS.
Experienced Inbound companies have the knowledge necessary to utilize SEO strategies and tactics just like an SEO-specific company, but can also build upon that in order to get the best return on your online marketing investment.
Content Creation and SEO
Creating content that will both rank well in the search engines and prove useful for visitors is the main force driving SEO efforts in an Inbound Marketing campaign. For your website, in addition to the text on the page, this can include:
Images / Infographics- The picture should accurately portray what the content is about, or in the case of an infographic, present an idea or thought in a simple manner. Utilizing the meta tags in an image in such a way that gives your images the best chance of coming up during an image search for a certain term.
Videos- Getting a visitor to watch a video on your site or offsite is a powerful content approach. Many content topics are better served in a video format. The video itself serves a useful SEO purpose as well, appearing on search engines with a boxed preview, and through proper tagging of video meta data, ranking for relevant keywords.
PowerPoints - A PowerPoint of slides relevant to a content topic is educational and important for big decisions, especially for building trust. PowerPoints can also be hosted externally or on-site and drive traffic depending on the quality and topic.
Whitepapers- These are generally the proverbial "bait" in order to get a visitor's contact information. They are sales and marketing literature to persuade potential customers to learn more about or purchase a particular product, service, technology or methodology.
Blog Content/Site Content- Keeping your blog updated with useful information makes your website look "fresh" in the eyes of the search engines and subscribers. Each blog post may rank for certain keywords on their own, increasing the reach of your site every time a new post goes up on the site. Content on your website serves a similar purpose but does not have to be refreshed as often but rather updated to improve the user experience.
Off-site Content Creation
Guest Blog Posts - A guest blog post is an article on an external website that gives readers new or in-depth information and can lead them directly to your site via a backlink, a major ranking factor on the search engines. One of the main benefits of a guest blog post is the search engines view this as authoritative, benefiting both whomever wrote the piece and your website. The major search engines (Google, Bing/Yahoo) are generally looking for both relevant content and backlinks.
Other Off-site Content - Building a reputation elsewhere on the internet, which is done through quality content, can help draw visitors to your website. Social media plays a part in this, especially when you need something eye-catching to encourage your followers to interact either with your post, or the content to which it links. Forums, LinkedIn Groups, Facebook Groups, Quora, Reddit, Google+ groups and other post-able mediums are great places to both gain backlinks and / or relevant traffic, especially when it is directly related to what you have to offer.
There are many different types of content that can improve SEO, which include but is not limited to: Case Studies, Charts / Graphs, eBooks, Dictionary, User Generate Content, Mind Maps, Helpful Application / Tool, Vlogs, Slideshares, Templates, Pinboards, Timelines, and more. The specific mediums used for your SEO strategy is dependent on your business goals, time and budget.
On-Page Optimization 3.0
Websites that are well-interlinked tend to fare better in the SERPs as opposed to sites that have pages only accessible through a directory or main page. On-page includes things such as proper meta tags and content optimization but its evolved much further over time. As soon as a visitor lands on your website, there should be a fairly easy way to allow them to convert to a lead, become a customer, download important useful information, or subscribe to your blog.
Optimizing your site to require the fewest number of clicks from landing page to lead page is a critical function of a website. You should have as many pages as necessary for the customer to educate themselves before contacting you by creating funnel pages based on the action you want them to take. You want to do A/B testing and multivariate testing to increase your traffic to leads ratios and to improve user experience. As a result of experimenting on your site, you'll have the added benefit of keeping the user on your website longer, improving multiple SEO metrics which can influence rankings. One way to do On-Page Optimization 3.0 is by implementing Growth Driven Design.
Link Building
One of the most important aspects of a well-rounded inbound campaign is a link building strategy that focuses more on quality as opposed to quantity. The three keys to this are:
Do-Follow Links - These are the types of links that give a website "juice". More of these are generally a good thing, provided they come from reputable websites. A link from a site such as Forbes.com will give your website more credibility in a search engine algorithm as opposed to a no-name site that was created in the last few months.
No-Follow Links - These do not usually give your website the same "juice" as a do-follow link. Many large websites enforce a no-follow policy for most outbound links, but it may be worth getting the link if its relevant and drives quality, relevant traffic.
Anchor Text - This is what tells a search engine what the link is likely about and must be managed carefully. Too many links anchored with specific keywords does not look natural, which usually leads to some links being placed with no anchor text, longer key-phrases, or different words completely. Anchor text is still a major factor for keyword rankings.
Understanding Buyer Personas within the Inbound Methodology (Important!)
Knowing exactly who to target is how you get the best return on your marketing investment. Just by taking a basic look at your customers, you can probably get an idea of some types of information that would be helpful in building a buyer persona. Inbound companies help build buyer personas while an SEO company will have nothing to do with the buyer after getting them to click on your page.
The easiest parts of the buyer persona to build include demographic information (gender, age, etc.), which is a great place to start, but it needs to go deeper than just a few data points. Other attributes of your buyer persona to look at would be:
Motivations - Getting into the mind of your buyer persona is necessary to see what motivates them. Why are they looking to purchase a product or service from you and what can you do in your marketing materials to play to that motivation? In order to find out, you will probably need to get feedback from website visitors or recent customers.
Behaviors - When they decide what they want or need, how do they go about obtaining it? Go even further. Finding out how their behavior has led them to desiring a certain product can give you valuable information about how you can stand out from your competitors.
Goals - What does your persona ultimately want out of their purchase? This goes beyond just the product or service. Do they want their life to be more convenient? Do they want what you offer in order to spend more time with family? Stop an emergency from happening? Finish a project? Getting to the core of what they hope to accomplish with their purchase makes it easier to develop a marketing plan tailored specifically for that persona.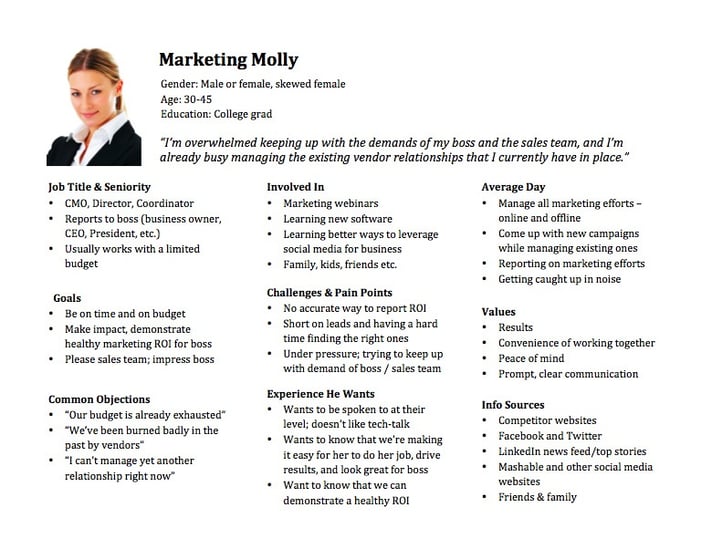 Stages of a Buyer's Journey
The path a customer takes from being unfamiliar with what you have to offer to making a purchase is known as the buyer's journey. This is typically classified into awareness, consideration, and decision stages. The ability to strongly represent your brand during each of the stages plays a vital big role in determining whether or not you get a new customer.
Awareness Stage: During the awareness stage, your potential customer may not even know they want or need what you offer. Showing those in this stage how your business can make a positive change in their life gets them thinking and looking around to see what they can do about it. Your potential buyer will do some research and your goal is to get them onto your website for their information.
Consideration Stage: When the buyer enters the consideration stage, they will probably go much more in depth with their research, doing comparisons and looking for more detailed information. Being open to the buyer at this stage means that you understand that they will probably be looking elsewhere, in addition to you, which makes it critical that you stand apart. Inbound agencies are great at keeping in contact with a buyer at this stage since the last thing you want is for them to forget about you while they look somewhere else.
Decision Stage: The decision stage is when the buyer will actually go through with the purchase and decide how they will implement your product or service. Making things as easy as possible from checkout to shipping will get the buyer thinking positively about your company, which can lead to coveted word of mouth advertising. Contact after the sale can be made to help them with any issues, or to market other offerings that may interest a confirmed buyer.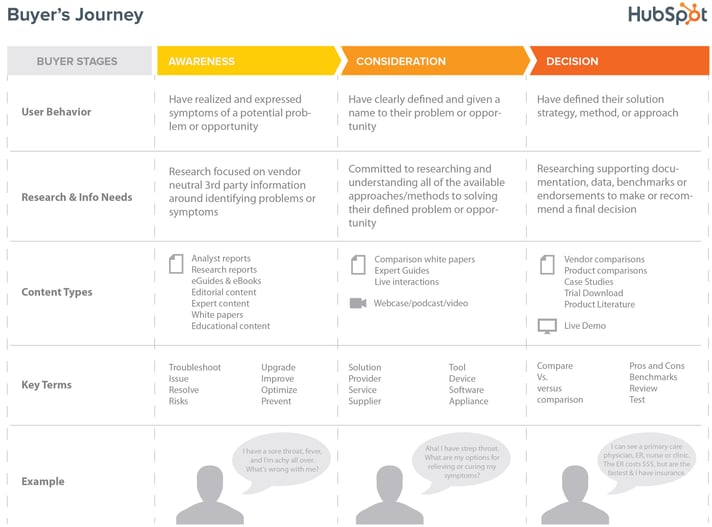 Building an Inbound Marketing Campaign for Your Buyer Persona
Once you have all of the pieces in front of you, they can be put together to create a campaign specifically aimed at your buyer's persona. A full campaign involves taking these things into consideration:
Time frame - How long you will be running a specific campaign.
Budget - The amount of money you are willing to spend on the campaign.
Persona - If you have multiple buyer personas, integrating your chosen persona will help keep everything targeted.
Keywords - Keeping track of the keywords you would like to rank for lets you see what customers are looking for to get to your website.
Landing Pages - Creating more than one landing page can give you the chance to implement A/B tests.
Email Lists - Sending out emails and building your lists help to drive people to your site and track their behavior.
Calls-to-Action - Multiple calls to action will let you see what kind of offers (whitepapers, checklists, templates) works best to help capture contact information.
Content Creation - Content tailored specifically to what your persona is looking for during each buying stage helps keep them on your website and at the front of their mind.
Social Media - Sharing your posts on social media helps with social signals and it extends the reach of all of your content.
Pay Per Click - Seeing where your audience is coming from can help you make better decisions regarding future placements and bids.
Other Marketing Methods - Special URLs can be used if you decide to utilize other methods such as mailers or other physical media.
Nurturing Contacts - Keeping in touch with former customers, and those on your email lists, should help drive business back to your company.
The Full Spectrum Approach
Inbound marketing would not be possible without SEO, but SEO companies usually do not touch buyer personas, social media, pay per click, lead nurturing and buying stages. Many are doing more than one but rarely all-in-one. This leads to less targeted content and missed lead capture opportunities. Taking all aspects of a growing marketing campaign into account is necessary to get the best result for your bottom line.
Is Special Software Necessary?
The short answer is no.
Software does exist that will help you with an inbound marketing campaign, but it is not necessary in order to implement an Inbound marketing strategy. The software is only as good as your team and how they follow the methodology.
Service providers like Hubspot, Marketo, and Pardot can make it easier to track certain metrics and implement inbound, allowing you to focus more on your business.
It is still essential that you know both what to look for and how to interpret the data. In addition, to implement closed-loop reporting (knowing where ROI comes from) without using software, can really make the time spent on your internal processes longer. Implementing an email nurture campaign without software is also very difficult. For those experienced in creating and managing Inbound campaigns, these programs can be great from an organizational standpoint, but for beginners it may be overwhelming.
Choosing an Inbound Marketing Agency Over an SEO Company
At Rizen, our roots are as an SEO & PPC company in Miami, but we made the switch and reprogrammed our thinking to become an Inbound Agency. An approach that combines all aspects of internet marketing together is going to work better for you than focusing on just one part of a successful internet marketing technique. Having several companies performing different tasks and not communicating with each other is an inefficient and expensive way to take your company to the next level. Inbound agencies do all of the work from making the buyer persona, to creating the content, posting on social media sites, leveraging Pay Per Click across Google, LinkedIn and Twitter, and nurturing your leads as they go through their buyer stages. SEO companies only focus on trying to get your website to rank, which is important, but is just part of the formula.