Inbound marketing has grown significantly in the last decade. As an Inbound Marketing Agency, we have seen a lot of companies and marketers jump on the bandwagon, but not all those who try it succeed. In our experience, Inbound Marketing doesn't work for everyone.

Some of the industries we have seen it work in have been:
Techy Professional Services
We also have agency friends who have successfully helped companies in manufacturing, distribution, architectural design, and engineering.
So you may be asking yourself, "What Is Inbound Marketing?"
Inbound marketing is an MIT tested and proven methodology of attracting, converting, closing, and delighting customers on your website by providing valuable content.
Tools and tactics used to achieve this include:
Content Creation
Email Campaigns
All of these tools and tactics have a common goal: To provide your prospective customers with an experience they'll enjoy, find useful, and be intrigued enough to reach out to you so you can close them.
The Goals of Inbound Marketing are:
Higher Marketing ROI
Better educates prospects to reduce friction and time spent in the sales process.
Provide a better customer experience.
Sounds amazing doesn't it?
Alas, it won't work for everyone.
Should you find yourself asking the question, "Is Inbound the right fit for my business?" here are some considerations to mull over.
1. Are your customers influenced by what they search for on-line?
81 percent of shoppers research online before buying, and in the B2B world, 94 percent of buyers research online when purchasing.
Word-of-mouth is still the most influential element in a buying decision. With apps such as Yelp, Twitter, Facebook, and Google Plus where users provide immediate feedback on products and services, your customers see everything. Today's word-of-mouth marketing consists of being vetted on similar sites by customers who are either extremely satisfied or on the complete opposite spectrum.
On the other hand, if your buying process is more complicated and goes beyond online research, you may not see success with inbound.
2. Are your team members excited about inbound?
Inbound marketing is a team sport. It requires the efforts of several key people throughout the organization. For example, if you offer consulting and advisory in engineering, you'll likely need consultants to commit some time to developing content because they are the experts. Like with other company initiatives, you'll also need the support of the entire executive team, from finance to sales and regulatory.
Before you jump on board with Inbound, consider who at your company will need to be involved and determine how much of their time and effort you'll require of them.
3. Do you have the money to invest in Inbound?
Inbound Marketing's cost per lead is 61 percent less than outbound. This doesn't mean that the upfront investment of Inbound Marketing is lower than outbound. In fact, it may be substantially more.
Our own retainers range between $5,000 and $12,500 a month and we may add setup costs if we are building a website or managing a Pay-Per-Click campaign.
According to this article by the SBA, if your business is less than 5 million, then allocating 7-8% of your revenues to marketing is adequate for growth.
I also found this handy chart created by Ryan Parlee that illustrates how much you should allocated based on revenue: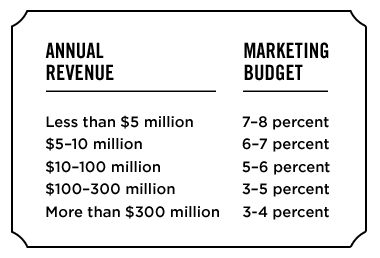 4. Is Inbound Your "Hail Mary Pass"?
Although some activities such as paid campaigns help you see Inbound ROI sooner, you shouldn't bank on fast results. Yes, Inbound Marketing can help grow leads and customers, but it isn't an overnight solution. Content, social, and SEO all take time to to develop.
Inbound is not a fit for every business. If you are considering adopting Inbound, speak to an expert who has managed multiple inbound marketing campaigns.