Updated: Oct 29, 2019
Running a law firm is a demanding task. As a business owner and attorney, you're not only responsible for your clients' legal challenges, but also for running a profitable and self-sustaining practice.
Having worked with many attorneys over the years, we've found law firms often have a tough time generating quality online leads and converting them into customers. That's the bad news.
The good news? Rizen has mastered lead generation for many law firms using a research-backed, validated process known as inbound marketing.
Using our process, you'll be able to automate and streamline your lawyer marketing, saving you time and generating more revenue for your firm. Here's how:
1) Create and Optimize Your Buyer Personas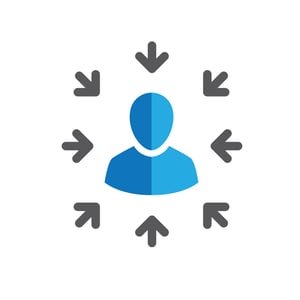 It all begins with understanding your client's needs and concerns. While you probably know your clients' most common problems, the creation of buyer personas is the first and most important step in implementing an inbound methodology.
If you're new to the concept of buyer personas or are unsure about how to create one, see our article explaining the topic more-in depth.
Refer to your buyer persona(s) when creating content to attract your potential audience. These could be blog posts, infographics, videos, podcasts, or downloadable offers. If you know WHO you're creating content FOR, your content will be more focused on meeting the needs of a specific individual or group.
In the example persona "Modification Maggie," (shown below) we see that a group we want to target has a common issue related to child support. An excellent blog post to provide value and attract new clients could be titled "6 Examples of When To Seek an Increase in Child Support."
This is content that Modification Maggie will find useful, helping build trust and interest in your law firm when she needs to procure legal services.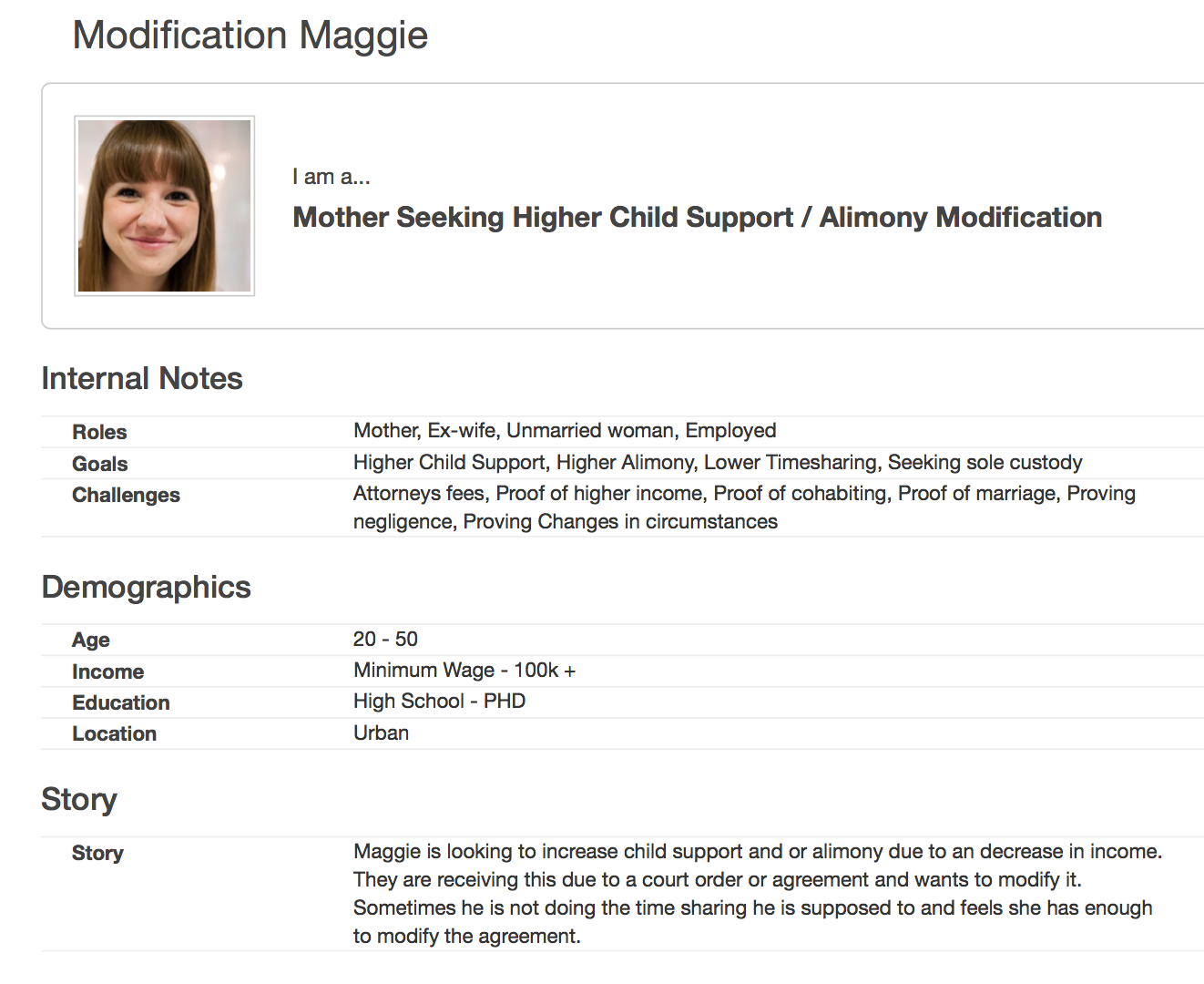 2) Let Technology Handle Mundane Tasks
One of the great benefits of using marketing software like Hubspot is the ability to automate parts of the customer management process. A common feature known as "sequences" can allow law firms to send targeted, timed emails to nurture a prospect over time.
For example, a law firm may decide to use a sequence after sending out a contract for a client to sign. Instead of spending valuable time and resources chasing individuals for a signature, let computer automation do the heavy lifting! Here's a screenshot of a pre-written email that automatically sends if a contract isn't sent back by a specific deadline: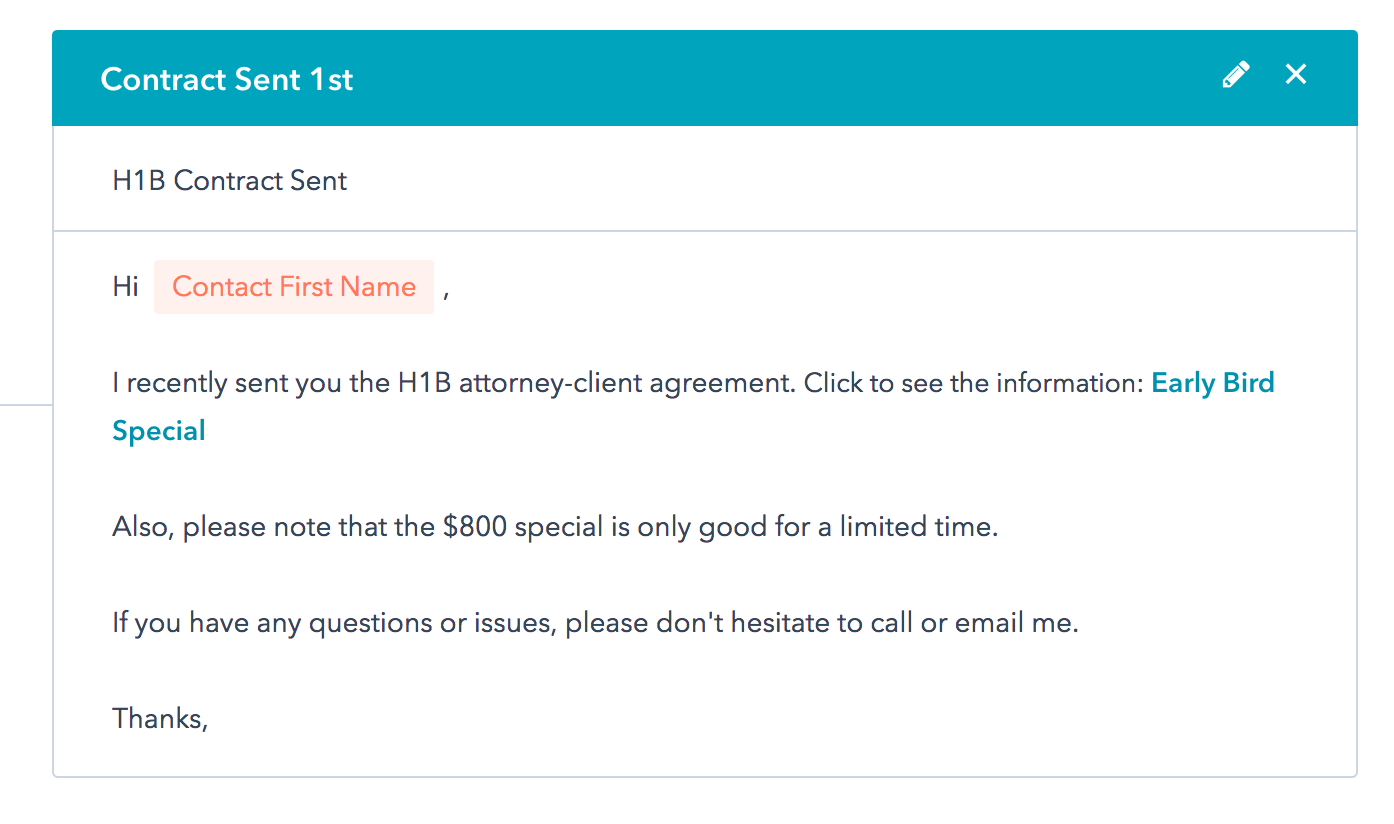 If the individual doesn't respond to the above email after two days (or however long you set the sequence for) then a follow-up email will be automatically sent: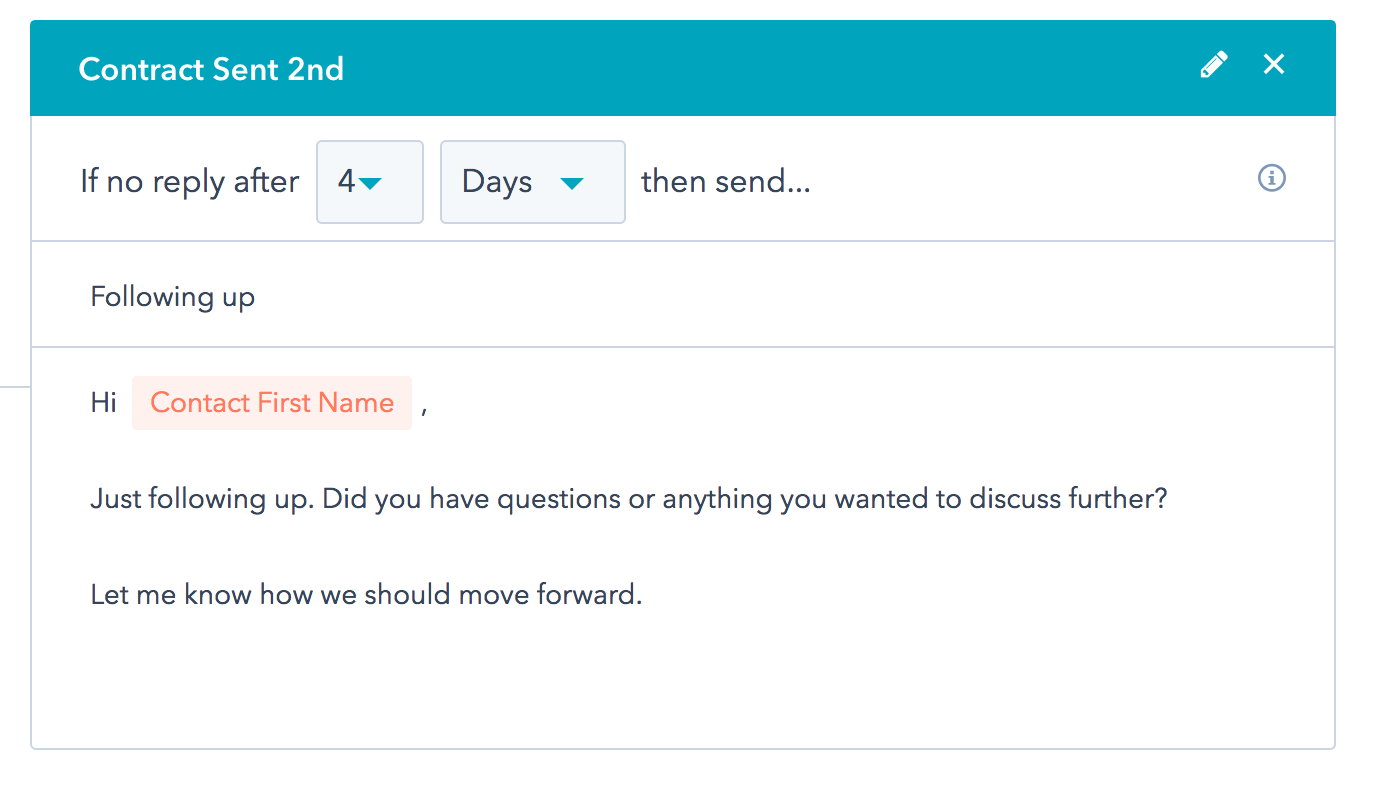 There are so many uses for sequences! Another use case is for dealing with "no-shows" to in-person appointments. Taking a frustrating aspect of the business and allowing for an automated solution can save you time and possibly save the prospective client.
A variety of sequences can be created depending on the type of law firm - each set of needs will be different. The power lies in the technology and potential for optimizing workflows.
3)

Use Paid Advertising With Google Adwords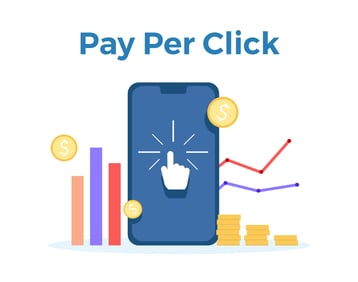 A common, effective method for generating leads is through paid digital advertising. When you type in a query into a search engine, results come back. The first 3-5 options related to your search topic are always paid ads. Companies spend money to show up at the top of search results, thus increasing their chances of being noticed. It works - depending on if you have a solid marketing strategy in place.
A solid campaign setup and constant monitoring are critical to ensure you are generating leads and converting them into paying clients. Explaining how to set up and run a successful campaign on these platforms is not easy as there is a steep learning curve. Assistance is recommended!
Whether your paid advertising partner is Rizen or another specialist, don't let the steep learning curve discourage you from using paid advertising. The return on investment can be one of the most effective pieces in a marketing plan.
4)

Create Landing Pages
A landing page can be any page on a website. Your home page is a landing page. Your "About Us" page is a landing page. A landing page is any page on your site that offers a "call-to-action" for the viewer.
This call-to-action (or CTA in marketing lingo) is usually a form one has to fill out in exchange for a downloadable resource. The form captures contact information you can use to send future content meant to convert them into customers.
For example, Spectrum family law, based in Edmonton, has a landing page to catering to people searching for family lawyers. Booking a consultation doesn't require navigating to another webpage.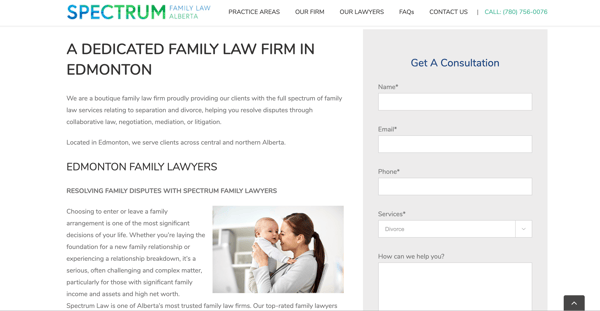 Let's explore another scenario and say your firm is looking to attract individuals seeking alimony or spousal support consultation. Ilene Tuckfield, a Miami-based family lawyer, features a straightforward landing page overviewing her services, along with a form to request a free consultation.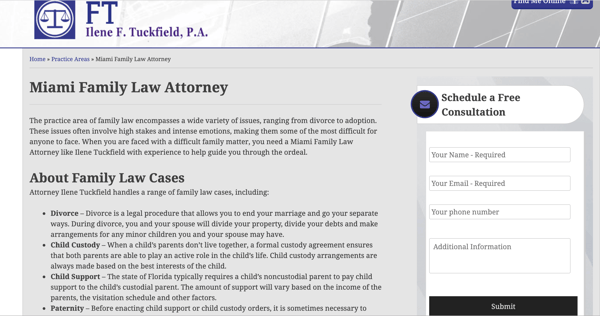 These are just SMALL samples of landing pages that effectively:
Increase your SEO so you rank better within the search engines.

Create all-in-one destination pages where readers can educate themselves and take action in one session.
Every marketing strategy MUST use landing pages. There are websites where you can build your landing pages without any HTML / CSS programming skills. If website design isn't your cup of tea, hiring a freelance designer/programmer (or partnering with Rizen) is much less than that of most attorneys. Focus more on closing and servicing your retainer deals by optimizing your website in this manner.
5)

Track Leads & Sales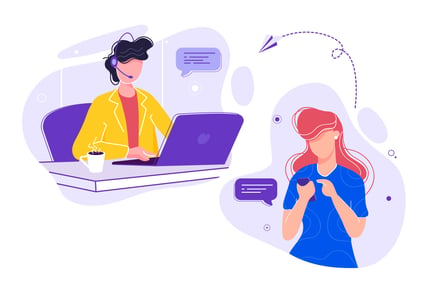 Apple knows exactly how many iPhones they sell every month. There is no reason why you should not be doing the same - even if it is just a few per month. Again, Hubspot is a great option because of its FREE set of features.
Tracking and organizing your leads is important so you don't miss out on any opportunities.
Once a marketing campaign is running for a few weeks, you'll have generated enough leads where you'll want the help of professional software.
Within Hubspot Sales, you can:
A. Leave Notes About Clients

B. Set Reminders for Follow-Ups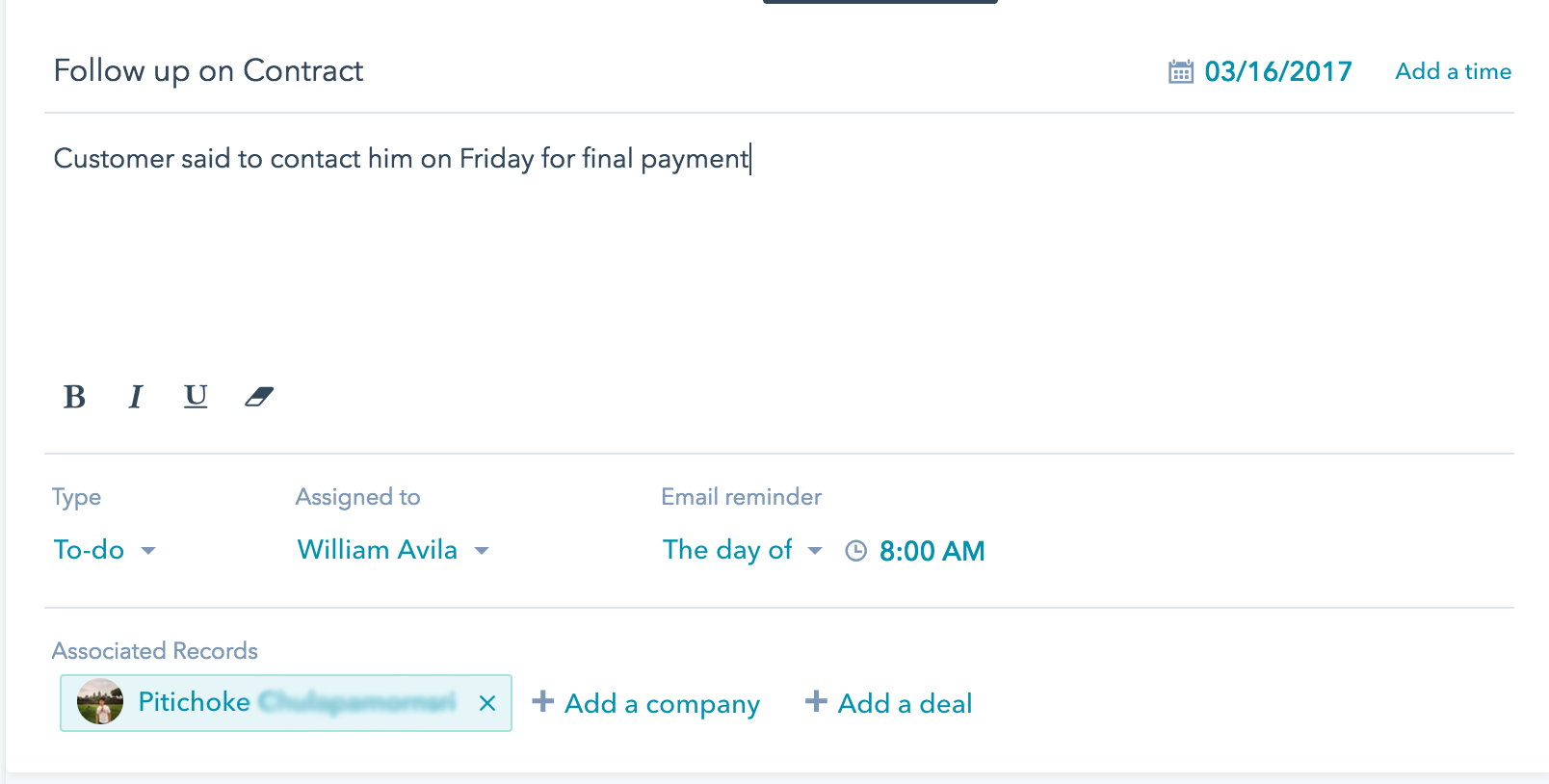 C. Make Phone Calls

D. Send Emails and See if The Recipient Opened Them

...and much much more! Note that Hubspot Sales is not meant to replace your internal software like Basecamp or Clio. The sales software is designed to help maximize how many people you turn into paying customers, which in turn moves them into your backend software for servicing.
6)

Work on Your Website - A Redesign Isn't Always Needed!
Your website is a digital salesperson. Their reach is more effective than any human sales professional. It has the power to be the most important tool in getting prospective clients to hire you!
So what should your website have to be the most effective sales tool in your inventory? There are three critical elements every website should have:
1. Unique Benefits of Your Firm
In this example from Leslie V Marenco, an attorney with Trust Counsel, PL, the home page of the firm's website shows their unique qualifiers that set them apart from the competition. In this case, the emphasis is on industry experience and accolades.

Providing unique benefits to potential clients is a great way to draw more interest in what you offer.

2. Calls-To-Action
Once a visitor engages with content on your site, you want to take advantage of the opportunity to move them along the buyer's journey to becoming a paying client.
It's important to provide "next steps" frequently across multiple pages of your site, so when visitors find value with your firm, they'll act on it! Take a look at this example from Sinel & Associates, based in New York. Their page for bedsore victims has a clear next step for readers.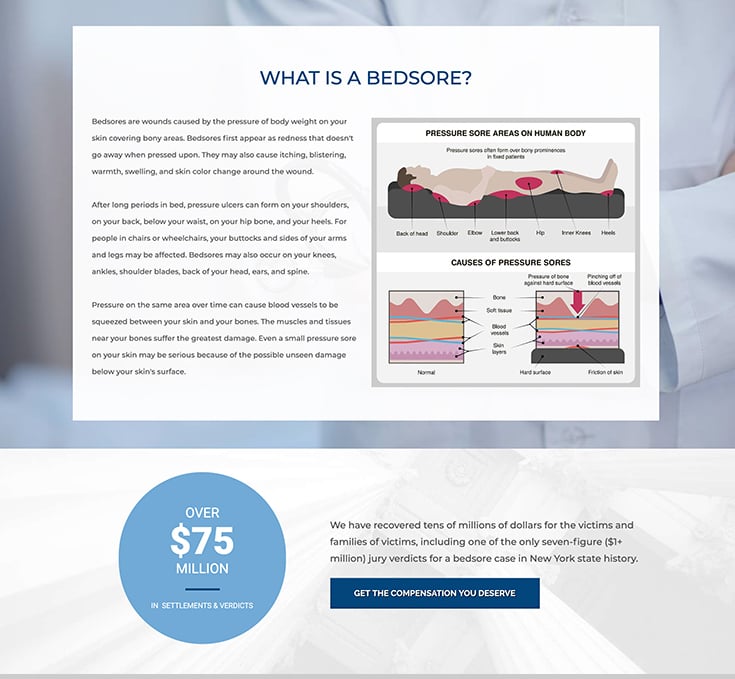 3. Constantly Updated Content
Content is king. Good content is rare. Creating valuable nuggets of information for your audience establishes your firm as an industry authority and increases the chance potential clients will find you when searching for answers to their issues. Don't just expect to create a website and have people flock to it. Give them a reason to visit!
Useful content gets linked to, referenced, and shared on other sites too, which makes your creations even more authoritative. While paid ads are great for driving traffic to your site, if there's nothing of value to the reader once they arrive, they'll move on in their search for a law firm.
If you're looking for a simple way to start generating content, start a blog page on your site with written posts. Provide articles explaining tips on the type of law services you offer, updates on your cases, and testimonials from other happy clients. Take a look at this attractive blog page, full of valuable content, from Richard S. Lawson, an attorney based in Atlanta, GA: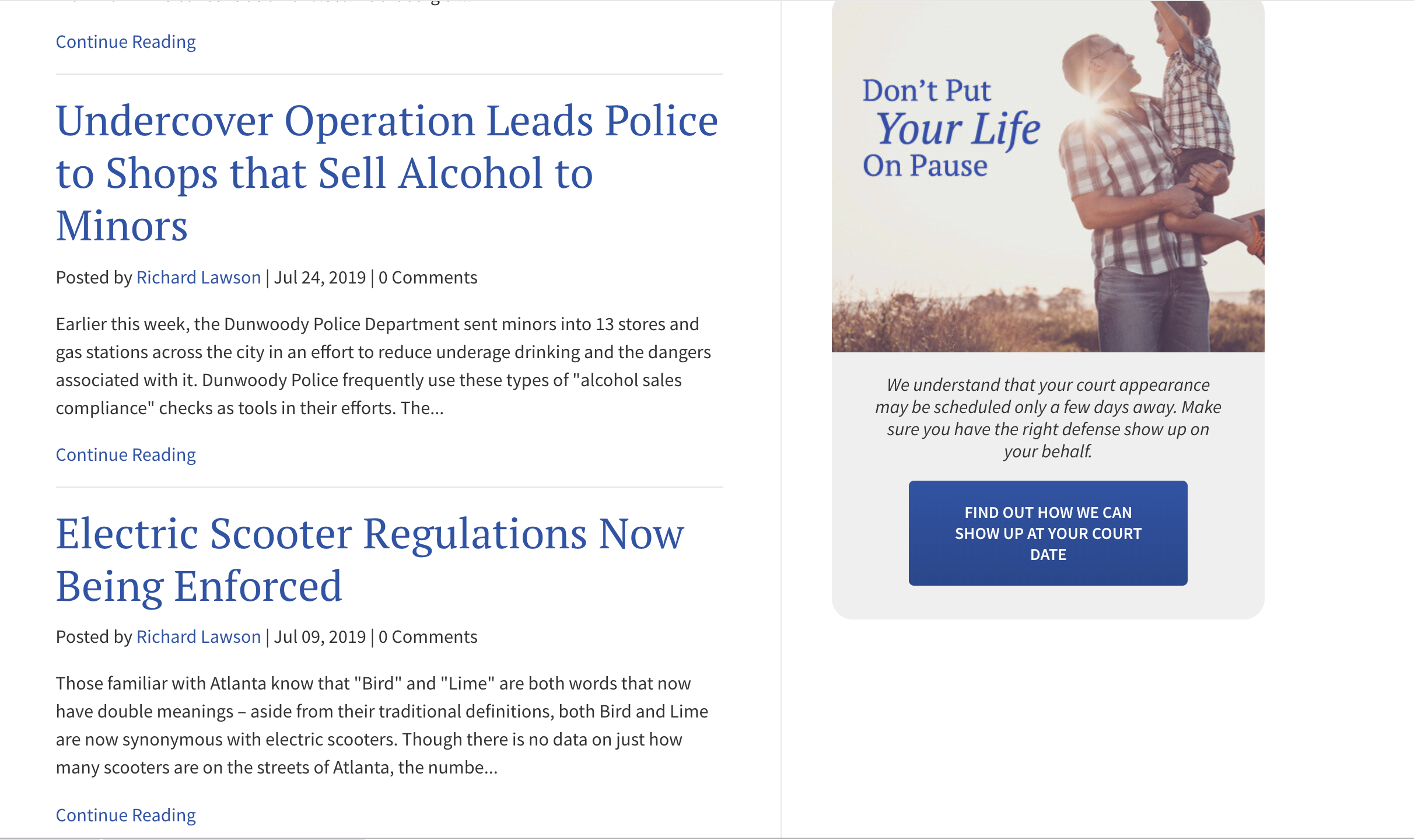 In some cases, a full website redesign may be necessary. Older designs or amateur web professionals technology that needs to be completely discarded thus requiring a new design. We can also determine that instead of investing in a total website redesign, a series of changes can be made to the existing layout versus a full investment.

7) Research the Competition
What are other attorneys doing that's working? Is the competition using a new advertising tactic? Have the expanded services to a new client base? What's their pricing structure?
Knowing what other law firms are doing is key to you making smart updates to your services.
For example, many times a new competitor will offer a low minimum retainer or hourly rate. This is a common technique used to get people in the door. A young attorney, just three years out of law school, may charge only $100 per hour just to get business.

You, on the other hand, may have 30 years of experience with strong case studies justifying a higher hourly rate. Consumers are sensitive to price, but above all, they are looking for value and someone who can deliver. Understand your competition and determine how you will stand apart. Adopt ideas that are worth undertaking yourself. Don't neglect to keep an eye on those in the same space as you.
8) Be Active on Social Media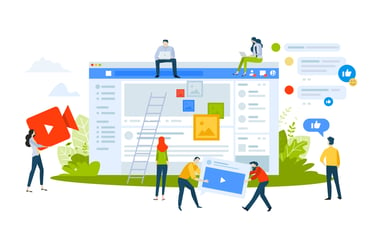 You've built and optimized an engaging website. You've created valuable content for your target audience. Great! Now it's time to get the word out.
Social media is an extremely effective space for engaging potential clients. Your law firm should be active on the main platforms such as Instagram, Facebook, LinkedIn, Twitter, and YouTube. Take advantage of these community-building services to drive traffic back to your website to learn more about your firm
Having an active presence on all these platforms in a demanding task, especially if you're handling it internally. Our advice? Choose one or two platforms that best align with your target audience and buyer personas. Research tells us which platforms are popular with certain demographics. For example:
69% of the U.S. population has a

Facebook

account.

Instagram

is most popular with 18-29-year-olds.

51% of

LinkedIn

users have enrolled in post-graduate studies.

Twitter

is the most popular social media platform for international users.

YouTube

has over 1 billion registered accounts.
To see more about the latest social media usage findings, check out this report from Pew Research.
The bottom line? Be active on the social media channels where your audience lives. Advertise an offer. Feature a testimonial video. Join a Facebook or LinkedIn group to network with individuals in your space and establish yourself as an authoritative voice. The goal is to spread your great content so that others can, in turn, spread it and seek your services.
Most Importantly? Keep Evolving Your Law Firm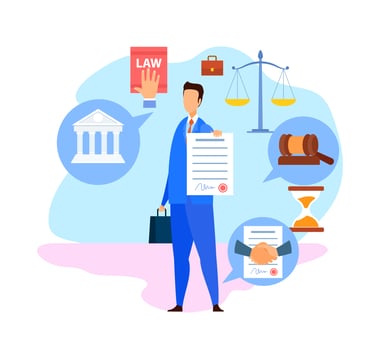 Even if time is tight and resources are slim, take the time to build and grow your law firm consistently. Using the above-outlined ideas in your law firm marketing plan will produce results - because they have for others!
If you're looking to partner with an experienced, friendly and results-driven team to help your law firm's growth, check out Rizen Inbound.
We're a gold-tier, Hubspot-certified inbound marketing firm focused on removing the mystery of marketing and replacing it with cold hard numbers.
Our happy clients include law firms from a wide array of specialty areas. Just look at the results we've achieved for the attorneys at Trust Counsel and Loigica.
Learn more about marketing your law firm by checking out our blog just for legal professionals. You can also follow our adventures on social media. We're active on Facebook, Instagram, Twitter, and LinkedIn.
Connect with us in the car or while cooking dinner by checking out our "Inbound Academy" podcast. We publish a new episode every week, always filled with advice that will help you grow your business using inbound marketing.
Contact us today to begin a conversation. We can't wait to hear from you!