According to a research study conducted by Bloomberg Law and the Legal Marketing Association, "67% of attorneys and marketing and business development professionals agree that their law firm is increasing its emphasis on business development and marketing efforts." This increased focus on alignment of these traditionally separate departments leads to opportunities for marketers to grow professionally within the firm.
In the following, we provide actionable insights to the process needed to align your marketing and BD for law firm growth.
Define Legal Marketing and Business Development
Define the journey of from stranger to client and beyond
Communicate on one platform
Measure every key touchpoint
---
Learn More About Marketing for Law Firms:
---
Define Legal Marketing and Business Development for Law Firms
First, let's define these terms:
Marketing is the process of identifying the unique messaging in your offering, then using that messaging when creating positioning for your brand, developing advertising, event promotion, website content, thought leadership, and public relations to reach your specified target clientele.
Business Development carries out tasks such as research, prospecting, and qualifying clients before referring them to the proper attorney. Business Development consists of activities that help you expand your law firms reach and builds upon the brand to connect the audience to your service.
The challenge for both departments is to bring in enough contacts to turn into prospective clients. A lack of communication and decentralized data between these two departments are detrimental to acquiring new clients. Ideally, the tools for both departments help each work towards the goals of growing the practice.
---
From Website Visitor to Profitable Retainer
Often, legal marketing and business development teams disagree on the journey that a prospective client takes before hiring your law firm. You'll want to work through what defines someone as a potential client versus someone that is merely curious about his or her legal options. The process of discovering the buyer's journey that your target audience takes can be one to unify both teams. Understanding the buyers journey offers your law firm the chance to channel the greatest amount of resources into converting the most promising prospects into new clients for the firm.
Ultimately, an understanding of the process a prospective buyer goes through will help you identify what content or interactions are needed to turn them from site visitors to new clients.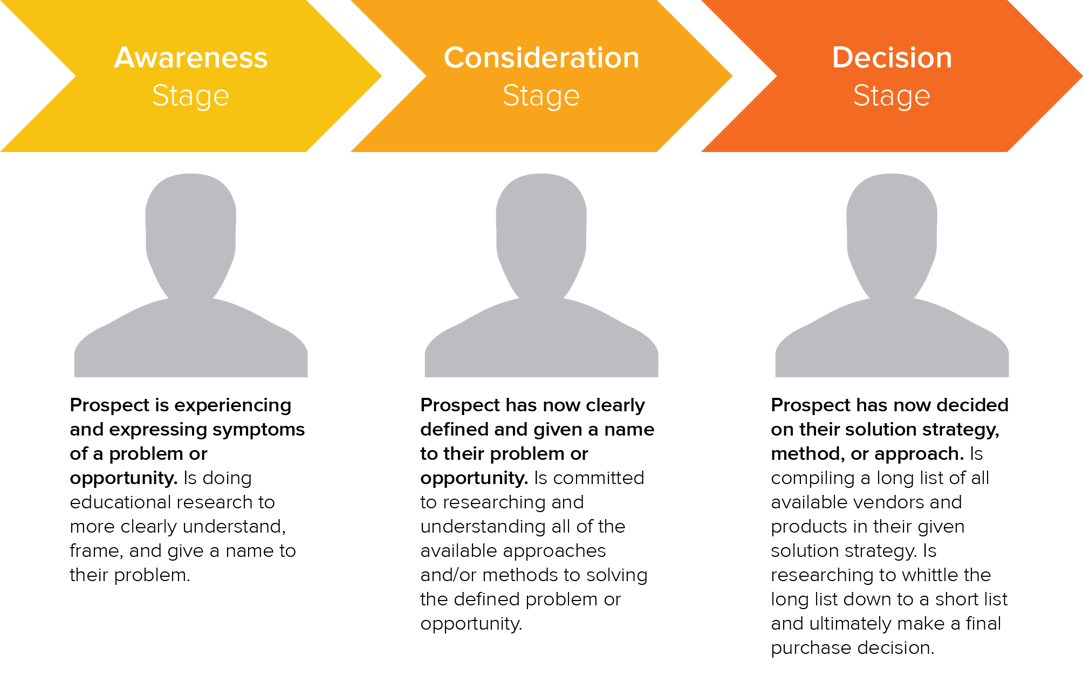 The image above shows us how modern prospects follow a process of awareness, consideration, and the decision when hiring a law firm.
The visualization helps prioritize interactions with potential clients within the buyer's journey. Each step in the journey moves your audience closer to becoming a client. As you develop this journey within your firm's marketing strategy, be sure to take note of interactions with the business development team as well as interactions with content on your site to gain greater insight into your potential client's thinking. In the end, you'll have a deeper understanding of how to spend your resources and which prospects might be worth reaching out to in the future.
---
Collect Insights, Improve Communication, and Increase Strategic Alignment
The information you are collecting from interactions with your prospective clients is invaluable in forming your strategic plan for growth. The more profound the information that your legal marketing team discovers, the more intelligently you can navigate the opportunities for your law firm moving forward. There are three instances where we have opportunities to collect information; client meetings, at events, and on your website.
When implemented, a Client Relationship Management tool (CRM) can lead to the effective alignment of business development and marketing teams by providing a platform where all the above-mentioned interactions are stored.
In fact, customer relationship management software makes it easier to implement closed-loop reporting. Closed-loop reporting allows you to connect interactions to closed business, allowing for reporting on the return on investment of marketing and BD activities. A CRM also enables the storing of this information under one system.
Aligning your legal marketing and business development departments with the help of a CRM is like having your law mentor in your ear during a trial. It ensures everyone is on the same page and allows for your law firm to draw up the savviest game plan for a successful business.
---
Scorecards Measure Success
Customer relationship management software is an excellent tool for closing the loop on information that wouldn't otherwise be connected. A CRM tool is also suitable for creating reports and giving each team real-time access to summaries of your interactions with potential clients.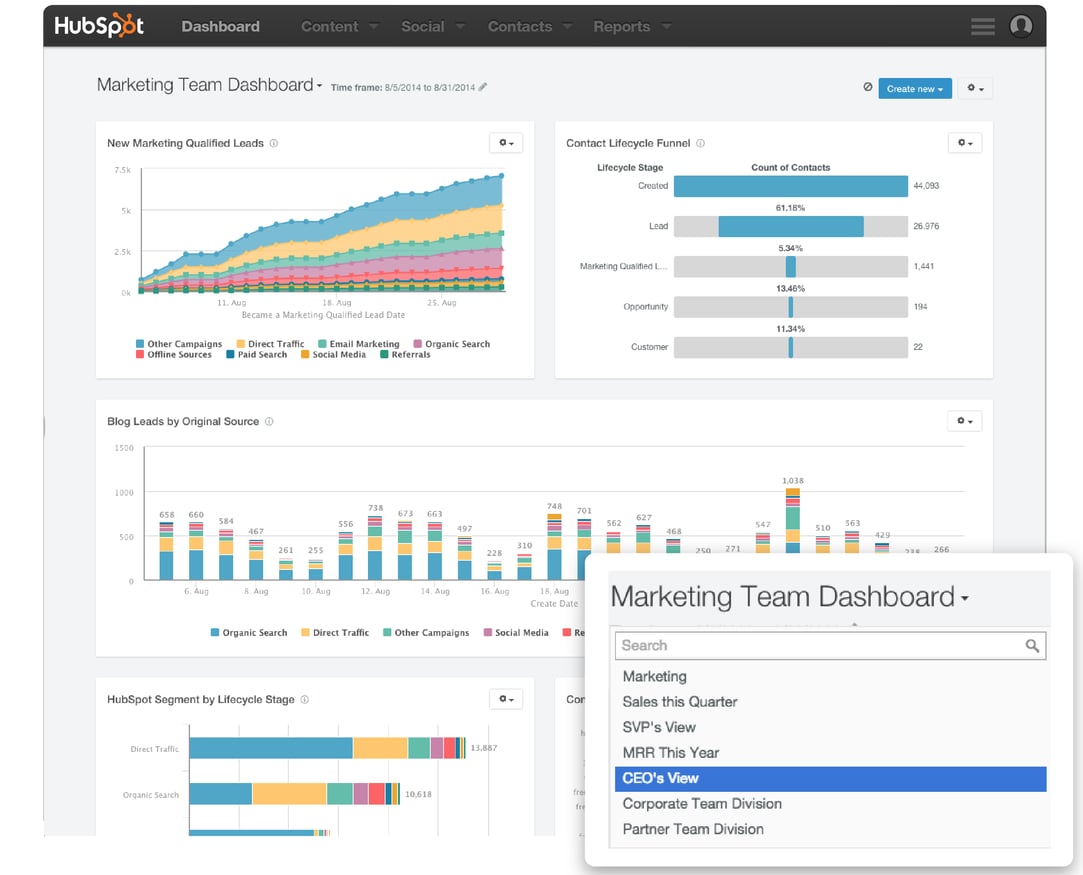 In the legal practice world, you often hear about key performance indicators. These are quantifiable measures of your law firm's performance across benchmarks that matter the most to your business development and marketing department. The reason that key performance indicators are so important in the marketing world is that they allow a marketing team the chance to track how they're doing and make course corrections if necessary.
Some Examples of KPI's Relevant to Law Marketing & Business Development:
SEO Metrics & KPI
Keyword Opportunity
Organic Search Traffic
Keyword Click-Through Rate
Landing Page Performance
SEO Keyword Ranking
Marketing Metrics and KPIs:
Online Conversion Metric
Returning Visits
Social Media Traffic
Email Marketing Metrics
Traffic to Contact Ratio
Contact to Customer Ration
Business Development Metrics & KPIs
Revenue Growth
Opportunities
Contacts Generated by associate
Client Acquisition
Potential Revenue from current opportunities
Revenue Growth by Practice
Gross Margin Return on Investment
Each department should outline clear objectives and share with the other the manner in which they may add to bigger goals for the firm.
---
Summing It All Up: Communication, Centralized Insights, and KPI's for Success
The better your legal marketing and legal business development teams communicate, the more seamless the growth of your firm. Alignment of resources for both departments allows business development to do what it does best - scope out new directions and tap into new client bases.
A scoring system for prospective clients can also be helpful for apportioning your law firm's marketing and strategic resources in the most intelligent way. That said, this scoring system should be related to the strategic goals outlined by your law firm's business development department and agreed upon by both your legal marketing team and law firm's partners.
As the delivery of legal services and attorney-client relationships evolve, CRM applications give you the tools to establish and reinforce relationships with clients. This same application can be used to track client interactions and bring drive financial success in these changing times.