Blogs are so 2010. Or are they? While the term may seem relegated to a bygone era, blogging is alive and well. Most importantly, it's still a beneficial tool in your lawyer marketing strategy. If your website doesn't feature a blog, we'll lay out why you need to start one and how to best optimize it to increase your client pipeline.
---
Learn More About Marketing for Law Firms:
---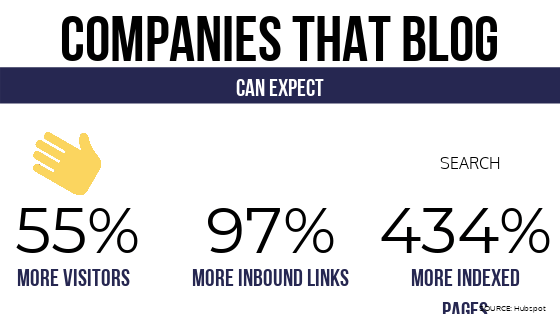 The Benefits of Blogging
Blogging is vital to the growth of your business for three reasons:
The continual production of content will attract, engage, and delight both new and existing clients.

Blog posts are what primarily keeps you at the top of search engine results.

A library of well-written content establishes your firm as an authoritative, knowledgeable voice in your industry.
According to a recent study from Hubspot, companies who blog regularly enjoy far superior marketing results than law firms who do not. When you publish quality content regularly, you will see noticeable growth in website visitors. Also, you'll increase inbound links from other websites, and search engines will index your pages to display in search results with higher rankings.
How to Blog Effectively
Gain an edge over the competition by using the RIGHT strategy when composing blog posts. It's not enough to publish written content and throw it into the Internet void. That's a waste of your time and resources!
Google (and other search engines) are continually updating their algorithms to deliver more relevant search results to users. Your strategy should adapt accordingly. We'll show you how to blog effectively TODAY when most law firms are using strategies from YESTERDAY.
By using these tips, You'll rank higher in search results and build your client base more quickly!

Tip #1: Conduct Keyword Research
Starting a blog is about positioning your law firm digitally. You want to get in front of audiences searching for legal representation online. Blog posts are an incredibly useful vehicle for doing so.
Remember, when 21st-century customers have a problem, they don't go to the phone book anymore. They go to search engines. The results that come back to the customer determine the next steps in their journey. Your law firm needs to be one of those roads!
Take time to think about those search terms you want your law firm associated with. These are called keywords. Craft a list of 10-20 topics related to your practice areas. If you're in immigration law, some keywords might include:
Immigration Lawyer

Immigration Law Firm Reviews

Green Card

Visa

DACA
The best way to compile a useful list is to consider questions clients have already been asking you. They can be the best source of information when beginning your research.
The next step is to conduct internet research on top keywords associated with your practice areas. We recommend two free tools to complete this process:
Both sites allow you to type in a broad term related to your firm, such as "family law" or "environmental law" and a list based on actual search volume.
Once you've gathered a list of keywords you want to rank for in search results, it's time to place these terms into organized groups of blog posts.
Tip #2: Create Topic Clusters
Due to the vast amount of web content published every day, search engines continuously adjust to deliver the best QUALITY search results to users. That quality of written content is weighted based on two main factors:
Length of blog posts

How various blog posts interlink and work together to create a comprehensive product
To put it simply, as search engines crawl your website, they are looking for unified content that links together and produces something of value to the reader. This may sound like a complicated process, but it's not if you understand where to start. The planning process is the most crucial step!
You'll want to begin by creating what are known as "10x content pillars." How does this system work?
You'll create one very long blog post (called a pillar page) containing everything you want to tell your audience about a specific topic. For instance, your pillar page might be called "An Attorney's Guide to Navigating a Divorce."
That one, very long page, will link to 10 smaller blog posts providing more information on subjects discussed in the pillar page. Those shorter articles will, in turn, link back to the pillar page. Let's look at an example: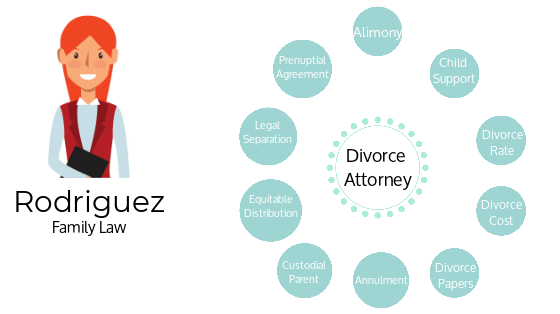 As illustrated above, the fictional firm Rodriguez Family Law now has a very long blog post about navigating a divorce. Ten links throughout this lengthy post provide more information in a separate article. These links should be sprinkled in organically throughout your pillar page, so they fit naturally in your text.
See our guide to inbound marketing to see an example of a 10x pillar page with links spread throughout the text.
Make sure each of your subtopics is associated with a keyword related to your firm. In the example above, Rodriguez Family Law wants to make sure when anyone types "custodial parent" into Google, their blog post will show up in results.
Search engines favor interlinking content. Your blog posts should work together to create something comprehensive instead of existing as random scattershot pieces of content.
Plan the structure of your blog posts first, then begin writing!

Tip #3: Create Evergreen Content
While it can be tempting to include current events and hot pop culture references into your posts, it is good practice to avoid doing so. Why? Both examples have a shelf life before severely dating your blog post.
Imagine, for example, a blog post from an immigration law firm referenced Elian Gonzalez with little to no background information. In the year 2000, readers would have no trouble understanding how the reference related to your blog post.
But in 2019, Elian Gonzalez is a name most readers will be unfamiliar with. You've signaled to the reader your articles aren't current, and, possibly irrelevant in handling their present situation effectively.
While the Elian Gonzalez case could undoubtedly provide an essential historical background in explaining precedent to the reader, you'll need to include substantial background information for context. The case shouldn't be discussed like it happened recently or is common knowledge!
As a general rule, avoid including items in posts such as:
Pop culture references (tv shows, movies, musicians)

Currently popular slang

Statistics or reports that will go out of date soon
Creating "evergreen" content is about making sure your posts remain relevant for as long as possible. Some examples of evergreen blog posts could include:
How to Create an Estate Plan

An Essential Guide to Personal Injury Law

10 Questions Commonly Asked at a Child Custody Hearing
These types of blog posts will need to undergo updating on an annual basis, but the process should be minimal. Save time and craft the majority of your blog posts as evergreen content.

Tip #4: Stick to a Posting Schedule
Audiences look for value when searching for legal representation. Who has the most experience? Who will provide the best pricing? Most importantly, who is the most knowledgeable to ensure I win my case?
Blog posts are an excellent way to communicate your knowledge, experience, and value to potential clients. To show your law firm embodies all these characteristics, post new content regularly.
Starting a blog and adding sporadic content signals a lack of commitment to providing value to audiences. Even worse, it indicates possible gaps in your knowledge base. How you approach your content efforts could speak volumes about the commitment you'll provide to new cases!
In addition to creating a strong sense of professionalism and industry knowledge, regular blog posts also help you get in front of larger audiences in search engine results. Why? Google (and similar sites) provide a search results boost to websites that update content regularly.

Tip #5: Create "Call-to-Action" Opportunities
No blog post is complete without offering the reader an opportunity to continue their journey with your law firm. While a well-written blog post will increase confidence and trust with the reader, you also need to provide another "hook" to keep their attention. This strategy is best carried out by creating "call-to-action" opportunities, or "CTAs."
CTAs are often placed at the end of blog posts and contain offers for the reader to download or sign up for a resource. Their main goal is to deepen the relationship between the potential client and the organization.
CTAs should always provide further value to the reader. They shouldn't be gimmicky or misleading. Respect the customer to gain their trust. Some examples of a CTA could include:
A downloadable PDF of rights to remember when pulled over by police

A signup for your monthly email newsletter

A signup form for a free consultation
Think about what you can offer your audience that may be of value to them. In all of these examples, you're giving the reader something for visiting your site, and you're creating an opportunity to acquire the individual's email or in-person time!
A Long-Term Strategy With Positive Results
Building a blog for your law firm is a worthwhile undertaking. Your increases in digital visibility will create a pipeline of new leads to help grow your client base. While getting to the top of search results can take time, your efforts will pay off over time and increase overall trust and visibility to new audiences. The return on investment will always be higher than the initial efforts!
Learn more about marketing your law firm by checking out our complete guide for marketing your law firm..

If you're looking to partner with an experienced, friendly, and results-driven team to help your law firm's growth, check out Rizen Inbound.
We're a gold-tier, Hubspot-certified inbound marketing firm focused on removing the mystery of marketing and replacing it with cold hard numbers.
Our happy clients include law firms from a wide array of specialty areas. Just look at the results we've achieved for the attorneys at Trust Counsel and Loigica.
You can also follow our adventures on social media. We're active on Facebook, Instagram, Twitter, and LinkedIn.
Connect with us in the car or while cooking dinner by checking out our "Inbound Academy" podcast. We publish a new episode every week, always filled with advice that will help you grow your business using inbound marketing.
Contact us
today to begin a conversation. We can't wait to hear from you!