Read Time: 5 min 30 sec
Every day we all fight to keep up with the avalanche of emails in our inbox. It's tempting to bulk delete everything and cut through the noise. If your law firm sends out a newsletter, it's crucial to find a way to stand out.
We have some proven methods to produce that irresistibly clickable email for your audience.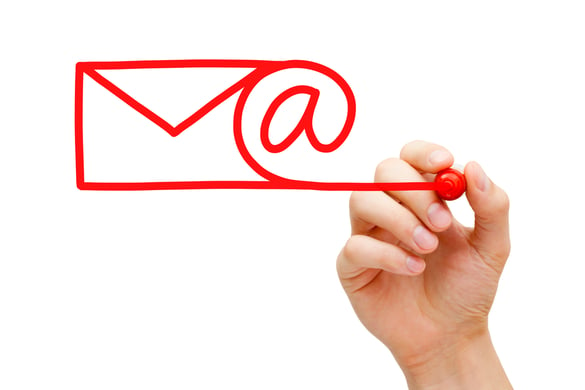 Is Email Marketing Worth the Effort?
Before we get into discussing email newsletters and optimization methods, let's start by asking a fundamental question: how prevalent is email usage in 2019? Have more modern communication methods eclipsed this medium? Is email even worth the marketing investment?
In short, yes! Email is still relevant. Let's look at some statistics to clarify. According to a 2019 study on email marketing from Hubspot:
More than 50% of U.S. respondents check their email account more than ten times a day.


There are about 5.6 billion active email accounts across the globe. "Active" refers to accounts accessed at least once daily.
Newsletters aren't a medium solely for older generations, either. According to this same Hubspot study:
73% of millennials prefer communication from businesses to come via email.
In terms of dollars and cents, email marketing is a strategy where law firms should invest. Email generates $38 for every $1 spent, providing you with a 3,800% ROI.
That, by far, makes email one of the most effective options in your marketing toolkit.


The Obstacle to Overcome: Over-saturation
Businesses use email as a way to connect with customers - both current and potential. As digital access has grown, so has this marketing strategy.
According to a study from marketing firm Emarsys, 80% of business professionals believe that email marketing increases customer retention.
Today's issue for audiences isn't the number of emails - it's quality! There are so many emails in our inbox on a daily basis, and it can be overwhelming to sort through. You need to stand out from the crowd for an email to catch the reader's eye. Provide value, and you won't end up in the spam folder.
Also, it's essential to understand in the services industry, such as with law firms, individuals don't need always need these services. They will float in and out in terms of active interest. That's okay!
By providing a steady stream of knowledgeable, useful content, you'll remain at the front of the customer's mind when requiring personal representation or sharing a referral with a loved one.
Let's look at methods to remember when law firms are planning and crafting email newsletters as part of an active lawyer marketing campaign.


Method #1: Spend Time on the Subject Line
Due to the stiff competition when a reader opens their email, you want yours to catch the reader's eye. Your newsletter should be rewarding to read. Share a useful tip. Invoke some emotion. Inspire. Lead. Motivate. Your email should give something back to the reader for opening.
So first and foremost, what catches a reader's eye is the subject line.
The subject line is the header (or title) seen when scrolling an email inbox. All readers have is that short block of text to entice them to open.
Why is it the subject line tends to be the least paid attention to item constructing a newsletter? It should be first!
Stand out amongst the bombardment of emails in the user's inbox. That is the goal. How to accomplish this? Use the right combination of action words and visuals.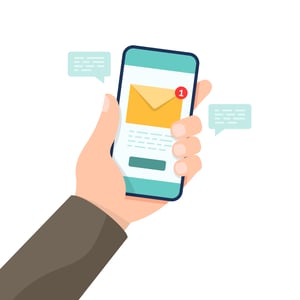 Before discussing word usage, remember that the subject line should be 17 to 24 characters long. That's it. Why? Forty-six percent of all email opens come from a mobile device.
The smaller screen size means you need to make your subject lines engaging for devices large and small.
Also, using action words is essential to engaging the reader's emotional side. Terms like "important," "remember," and "wonderful" have higher open rates. People want to envision how their life will improve by engaging with your email. Some examples of strong subject lines for law firms might include:
Increase your personal injury settlement with this approach.




Is your family protected when disaster strikes?




Five responses to use when pulled over by a police officer. 👮
Notice the emoji in the final example. While this may seem like a childish, unprofessional approach, emojis have been shown to increase click rates due to their visual engagement. In fact, 56% of brands using an emoji in their email subject line had a higher open rate than those that did not.
There's an excellent FREE web tool from CoSchedule for testing the effectiveness of subject lines before sending out emails. Paste your text into the generator, and their algorithms will convey a rating, helping you tweak the subject line for better optimization.

Method #2: Keep the Newsletter Short in Length
In following the same rule as subject lines, remember to keep the length of your email newsletters on the shorter side. Really long emails kill the interest of your audience.
Keep each section of your newsletter to around 30 seconds of readable content. That's about how much time you have before the reader moves on.
Make the content snackable in size - short and concise. Your readers will thank you for it.
Challenge yourself to cut your text by half when conducting final edits.

Method #3: Use a Natural, Non-Courtroom Voice
The vast majority of your readership will have little in the way of exposure to the legal world. Using industry-specific terminology and "legalese" may seem like a good idea to establish expertise, but emails are a personal medium. When writing to your audience, use a natural voice.
Stop thinking about the language you'd use in a motion, brief, or memoranda. That's not the audience in front of you. Place yourself in the mindset of your audience. Consider your emails as a way of talking to your customers or readers. When conducting a consultation - it's about establishing a connection. Emails should accomplish the same.

Method #4: Include Clear Calls-to-Action
Your email contains snackable sections full of valuable content for your audience. Don't forget to tell your readers exactly what you expect them to do next.
For example, sharing a blog post from your site about questions to ask when meeting with a divorce attorney should include an actual option to meet with a divorce attorney! When providing a resource, make sure also to create an opportunity for the reader to take the next step too. This could be scheduling a consultation, signing up for an ebook containing more information, or viewing a video testimonial from a satisfied client.
Remind the reader of your services when sharing content. Those who aren't ready to engage on that level yet will still read or watch what you've shared. Those ready to take the next step will - if you provide a convenient opportunity to do so.

Improve Your Audience Engagement With Smart Email Marketing
It's incredibly important to make sure you're not just churning out a newsletter just for the sake of doing so.
A poorly constructed email can be just as damaging as a poor review, so make time to optimize your messages for audience growth and engagement. At the end of the day, everyone's getting bombarded with emails left and right, so use these methods to ensure that your emails stand out from the inbox crowd.
Learn more about marketing your law firm by checking out our blog just for legal professionals.

If you're looking to partner with an experienced, friendly, and results-driven team to help your law firm's growth, check out Rizen Inbound.
We're a gold-tier, Hubspot-certified inbound marketing firm focused on removing the mystery of marketing and replacing it with cold hard numbers.
Our happy clients include law firms from a wide array of specialty areas. Just look at the results we've achieved for the attorneys at Trust Counsel and Loigica.
You can also follow our adventures on social media. We're active on Facebook, Instagram, Twitter, and LinkedIn.
Connect with us in the car or while cooking dinner by checking out our "Inbound Academy" podcast. We publish a new episode every week, always filled with advice that will help you grow your business using inbound marketing.
Contact us today to begin a conversation. We can't wait to hear from you!