Many years back I received the advice to run away from any marketing agency that offered a guaranteed ROI. Back then it was the wild wild west on the world wide web, and my coach was right. I had a successfully helped build an eBay business, followed by a successful transition to ecommerce on my own sites, and followed it up with explosive growth with my debt settlement business. The success of all these businesses was due to my understanding of the search engines of the day.
One day our team decided to hire an agency to run our marketing campaigns. I interviewed dozens of marketing agencies looking for someone who would guarantee their work. I wanted to make sure that they put their money where their mouth is. After all, I knew based on my experience what worked and what didn't. In my search I discovered a few things:
Sales people in the industry described marketing as magical
Very few agencies were focused on ROI
Very few offered a guarantee, those that did seemed to be lying
As my search continued I began to become disillusioned. In fact, I almost quit searching. I did't understand why I could not find someone. As I grew as an entrepreneur and engaged with an agency, I came to understand why agencies do not offer a guarantee, why clients run away from guarantees, and how our agency could take full advantage of those two facts.
Why guarantee marketing for law firms?
As we transitioned to servicing our own businesses to serving other businesses, I realized that our team needed to be different from other agencies. We are already drastically different from the majority in that we wholeheartedly believe in and apply the Inbound Methodology.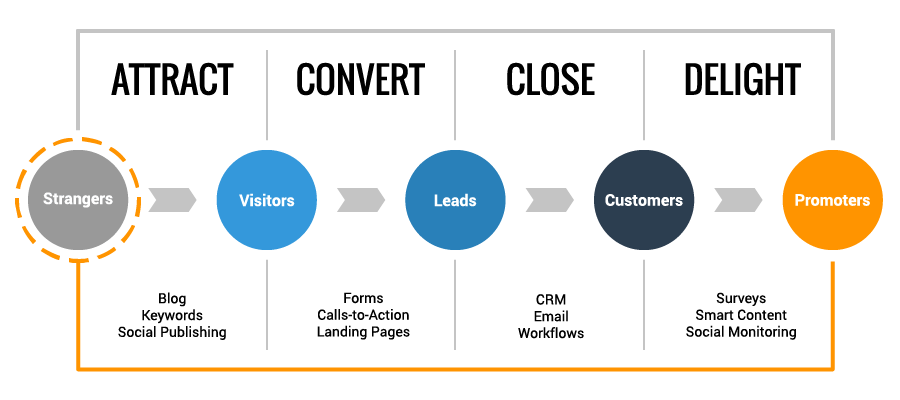 This methodology is used by over 20,000 businesses worldwide. We are part of a larger group that is constantly working to improve metrics, success rates, and most of all return on investment. Belief was one part, we also spent our time dedicated to showing the world the success of our clients. Each client we work with is hand picked. We vetted them as much as we they vetted us. We came to an understanding that this is a partnership and not a one way relationship. But we needed something else, we needed to show the world that we know we are so good that we will risk our failure on the work we do for you.
Are we really so bold?
Yes. We are. I served as U.S. Marine for 8 years. So did Will, another shareholder in the agency. We both learned that luck truly favors the bold. We push through no matter the odds or the fear of consequence. The Marine Corp instilled discipline and dedication to service and it is the foundation we built and sold multi million dollar businesses before starting our agency. Our agency has over 30 years of experience combined.
Throughout these years we learned that it is impossible to succeed unless we hold each other accountable to our agreements. We do the same for our clients. Part of our job is to hold them accountable when handling the new business we deliver.
As we thought about our guarantee we also put great thought into developing a system to hold our clients accountable. We asked ourselves, "How do we ensure we work with the right client?"
As part of our own business improvement journey we discovered a business management methodology called EOS®, Entrepreneurial Operating System®.
THE TEST: Law Firm Business Checkup
I discovered EOS from a speaker at the Inbound Marketing conference in Boston, back in 2014. When I looked through the workbook, I knew immediately that this is what we had been looking for to solidify our business model. The methodology focuses on 6 components: vision, data, process, traction, issues, and people.
We took this process and ran with it, implementing it in our own business and then for several of our client law firms. Our understanding of the processes and the implementation of the tactics outlined in each have been pivotal to our success. The success of our clients has enabled us to prove its effectiveness on a multitude of applications and practices.
The first thing that I did when introduced to EOS was to take their ORGANIZATIONAL CHECKUP™ in order to see where we stood.
I admit, we were far from where we wanted to be and hoped we were. This was a turning point in our organization. We decided that we were going to take it to the next level. It was all hands on deck with EOS and implementing the structure in order to be successful.
This is where our Law Firm Business Checkup stems from. It is 20 questions to help us get an understanding of how your firm measures up to other successful businesses. After all, we are in the business of growing your business of law. A score of 80% or higher automatically qualifies you for our Marketing ROI Guarantee. We know that a law firm that scores 80 or higher will be able to work well with our team based on the timeless business principles the test covers.
What does the guarantee cover?
Our guarantee covers our retainer minus the cost of imagery, content, and third party software or services. This means you get what we promised at the beginning of our engagement or will give you your money back. Just remember, you have to pass the test first.
Where can I take the test?
Here is the link to see if your Law Firm is Ready: Law Firm Business Checkup
What if I fail the Test?
There is no way to really fail the test. You can do poorly of course, but a low score provides us with insight into what we need to focus on to turn your business around. Similarly, a high score lets us know that you are ready to work with us and grow your business using the Inbound Marketing Methodology.
What can I do to improve my results?
We suggest that you begin with reading the books Traction and Get a Grip by Gino Wickman. Check out the EOS website using this link.
Next, take the opportunity to learn if your business is ready for Inbound Marketing Services by scheduling an inbound marketing assessment with one of our amazing specialists.
Finally, hire a consultant. We will gladly help you implement EOS and the Inbound methodology. Our goal is to get your practice to perform at a score of 80 or better. You may also hire a certified EOS implementer here.
To Summarize...
What kind of law firm do you want to build?
If you are looking to build an extraordinarily successful law firm, we are here to help you build it with the strategy and tactics that will set your law firm apart from the 47,000+ law firms in the nation. What better partner than one that guarantees their work?