What is the HubSpot CRM? Wait, What is a CRM?
Newly minted law firm partners must find ways to grow the practice. They have to do this efficiently and not get obstructed by spreadsheets, cluttered email, or unwieldy software programs.
Client Relationship Manager (CRM) is one of those programs that may be unwieldy, but the right CRM can mean the difference between a stellar performance and a lackluster one. CRMs are repositories of information about both prospective clients as well as current clients. CRMs are used to manage data collected throughout the client engagement process, from initial consultation to signing the contract and even after the prospect becomes a client.
Hubspot offers their version of a CRM. We currently use it with every client we work with. As several of our clients are attorneys, we decided to write a short article on how to customize the HubSpot CRM for Law Firms.
Our Clients use the HubSpot CRM for:
Organizing contacts
Logging activity automatically
Viewing every interaction with a prospect and customer
Why Should Your Law Firm Adopt the Hubspot CRM?
Hubspot is one of the easiest softwares to learn and adopt that I have ever come across. Throughout my years as an entrepreneur, I have reviewed, implemented and become a power user of many CRM systems. Some of these systems include Salesforce, Sugar, Zoho, Base, Dynamics, and Infusionsoft. Those systems all had one thing in common, they were built for slow moving, lag metric-driven management.
Once I discovered HubSpot, I knew that this would be the software to use for my own business as well as for all of our clients. It takes 5 minutes to set up and saves hundreds of minutes by being intuitive and removing tedious tasks from the individual using it. The software is built to increase productivity while automatically tracking and measuring success. The software also allows you to help align marketing and business development teams to grow a practice.
So why use this CRM?
It's simple to use
Skyrockets productivity
Measures success
Aligns your team with one go-to source of information containing contacts and prospective clients
Customizing the HubSpot CRM for your Practice's Business Development Process
One of our amazing clients used to track his opportunities using Outlook folders. Each folder had the name of the client as the name of the folder and every email received would go into its respective folder. It worked pretty well in the beginning. As long as he remembered to put the email in the right folder, he would successfully organize his opportunities, current clients, and things to do. The problem came as the law firm grew. The more emails he had to the store, the more complex it became to find information quickly. He tried to save time by switching to a combination Outlook and spreadsheet system, which actually made him less organized and slowed down his ability to fulfill his duties.
It came to a point that the inefficiency started costing the firm money. Based on the realization that a defined process would enable the firm to grow, the partners made the choice to review and adopt a CRM. After reviewing several options, our client went with Hubspot.
How are you currently tracking your opportunities?
Accurately tracking opportunities has stumped many a lawyer. Legal pads with phone numbers and scribbled notes regarding prospects can only take you so far when trying to expand your business. With a CRM you enter all your data, add reminders and tasks, and keep an accurate record.
The following is a breakdown of how we customized the Hubspot CRM to help our client's practice grow and subsequently many other law firms.
Defining Your Business Development Process
Before you jump into a CRM, you need a in-depth understanding of the process used to develop business. Why do you need a process you ask?
You need a defined process in order to:
Be more efficient
Develop stronger skills through repetition
No need to reinvent the wheel with every new opportunity
Have guidance on next steps
Ensure everyone on the team is on the same page
Close more deals
We recommend the Inbound sales methodology to help you develop your process:
Identify - Prioritize the prospects that are active in a buying journey and use information available to identify who might need your service.
Connect - Lead with messaging that appeals to their context, whether online or at a networking event. Develop trust by showing genuine interest in helping.
Explore - Transition into exploratory mode when the prospect expresses interest and leverage it to develop additional trust and uncover their deeper goals through a conversation.
Advise - Tailor your offering to the prospect's context, leveraging the information gathered during the exploratory process.
Once you have defined your business development process the next step will be to customize the HubSpot CRM to reflect your firms agreed upon process.
Customizing Deal Stages in Hubspot CRM
So this is how your process may look in HubSpot after taking the Inbound Sales Methodology into consideration.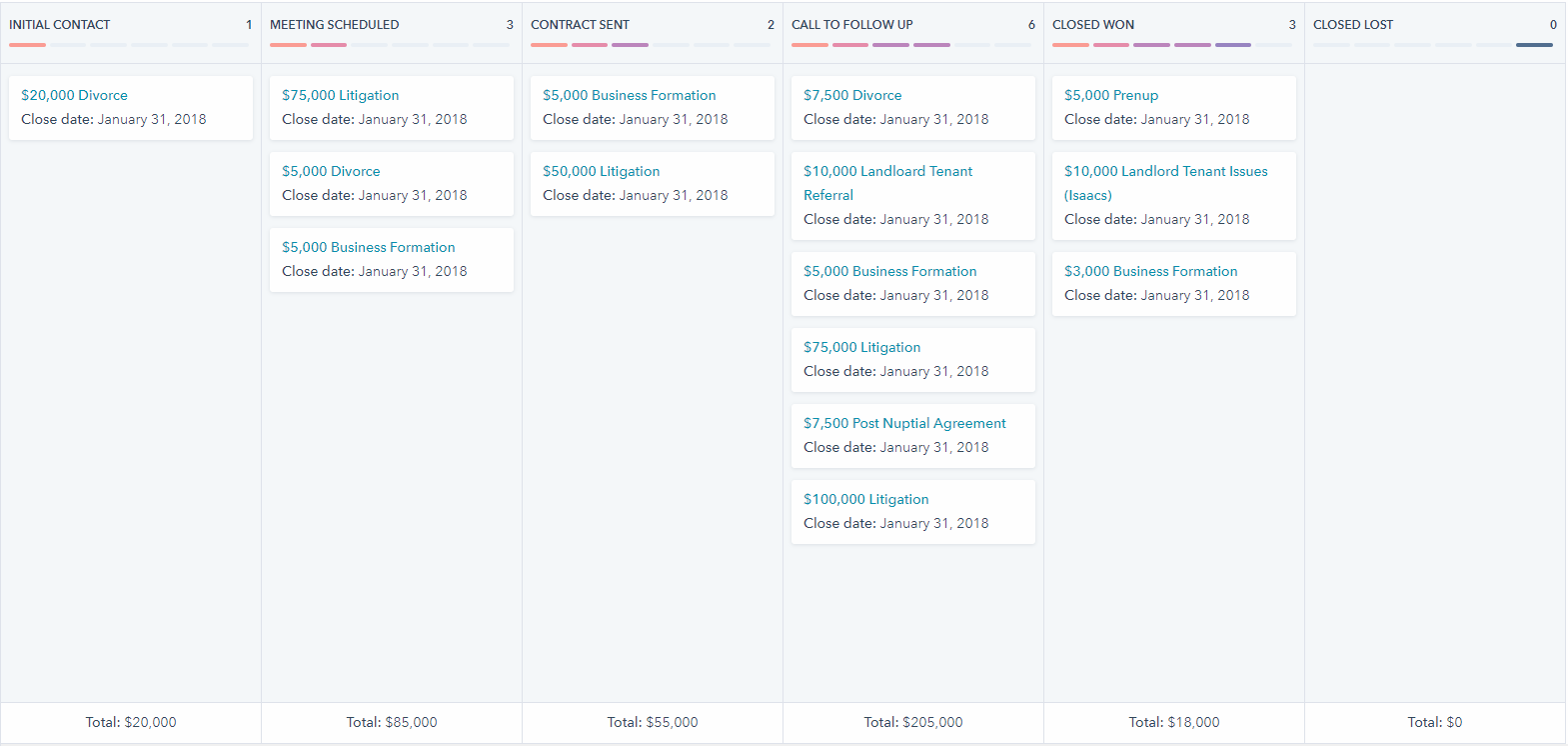 Below are the stages and their definition of the example above:
Initial Contact - This is the first conversation you have with a prospective client. It is where you discover if they qualify to have a meeting to review how you may work together.
Meeting Scheduled - During this meeting you will explore the ways in which you may serve them and the ways in which they will engage with you, including challenges, goals, plans, budget, needs, and timeline.
Contract Sent - You will send out your engagement letter or contract for signature and payment.
Call to follow up - This stage is where you will follow up with the prospect until payment is received
Closed Won/Closed Lost - These stages are final and they determine whether the client can move forward with fulfillment or not. "Won" means they have paid the initial retainer or invoice, "Lost" is when they do not move forward with engagement.
Keep in mind that this is only an example of and you may customize the CRM to fit your area of practice.
Ready to get started customizing your HubSpot CRM for your law practice? Here is a link to how to customize deal stages in the HubSpot CRM.
Whether you are looking to organize your firm's contacts, improve efficiency, or manage the business development activities of your associates, the HubSpot CRM is an excellent platform that is built to aide your growth.