Read Time: 5 min
Any comprehensive lawyer marketing plan needs to include an advertising strategy. The proven method to attract, engage, and delight audiences is through inbound marketing, and digital advertising has become a precise means to place yourself in front of the right customer. Gone are the days or un-targeted ads landing in front of Internet users. Using the right tools, digital advertising can be a powerful arm of your overall marketing strategy.
There are so many different platforms to choose from when it comes to digital advertising; it can be hard to know where to invest. Using a combination of cost control and return on investment, we'll show you the best strategies to advertise your law firm online.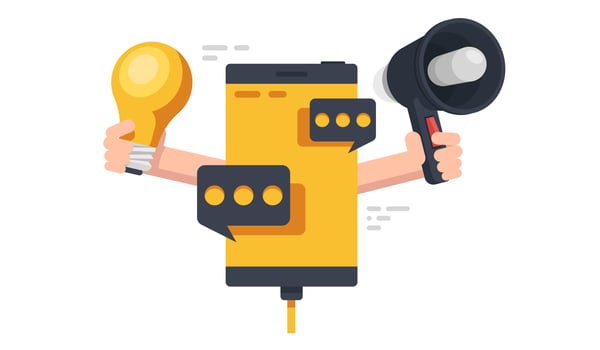 Strategy #1: Pay-Per-Click Lawyer Advertising
Pay-per-click, also known as PPC, is a digital advertising method for placing ads in search engine results. Your ad will show up when specific keywords you choose are entered.
PPC is, at its core, a bidding system for digital advertising. Select your keywords, then decide how much you want to spend each time a search engine user clicks your ad link. Services like Google, Bing, or Facebook are paid per click.
There are two main benefits to using PPC:
Your link will show up above organic results ensuring your ad is one of the first items users see when conducting search engine research.
You only pay when a user actually clicks on your advertisement. You won't see your budget wasted just by ordering PPC ads. You'll be rewarded for the investment.
The best place to start when using PPC is Google Ads. Google accounts for 87.96% of all search engine queries, so spend your money here. Competitors like Bing and Baidu both offer PPC as well, but investing there isn't a smart strategy, especially when there are other more profitable platforms to advertise with.
Strategy #2: Social Media Advertising
We've discussed the importance of a social media presence for lawyers in another post. You need to be where audiences are! To review:
69% of the U.S. population has a Facebook account.
Instagram is most popular with 18-29-year-olds.
51% of LinkedIn users have enrolled in post-graduate studies.
Twitter is the most popular social media platform for international users.
YouTube has over 1 billion registered accounts.
To see more about the latest social media usage findings, check out this report from Pew Research.
Since social media is where the people are, it makes sense to advertise on the same platforms. Thankfully, the major platforms all offer robust advertising options for businesses.
Instagram, Facebook, and Twitter all allow lawyers to target their ads to users based on age, location, gender, and even viewing behaviors. Control over these specific details allow law firms to reach a target audience with almost pinpoint accuracy.
Advertising on social media is also an extremely cost-effective venture. Simply enter your budget for each ad and let the platform do the work for you.
Strategy #3: Reputation Management
Digital connectivity has created a review culture - where everyone has the ability to leave feedback about your business on platforms such as Google Reviews, Yelp, and TripAdvisor. These reviews are incredibly important - mainly because individuals in your local area may be searching for your business and leaving with a negative impression
Local feedback isn't just housed in these review platforms, they now show up in search results! Take a look at how search results in Google are presented. The top of the page shows PPC ads (covered earlier), then local results related to the search term, then organic search results. Your business's reviews are only a click away!
PPC Ads (Top)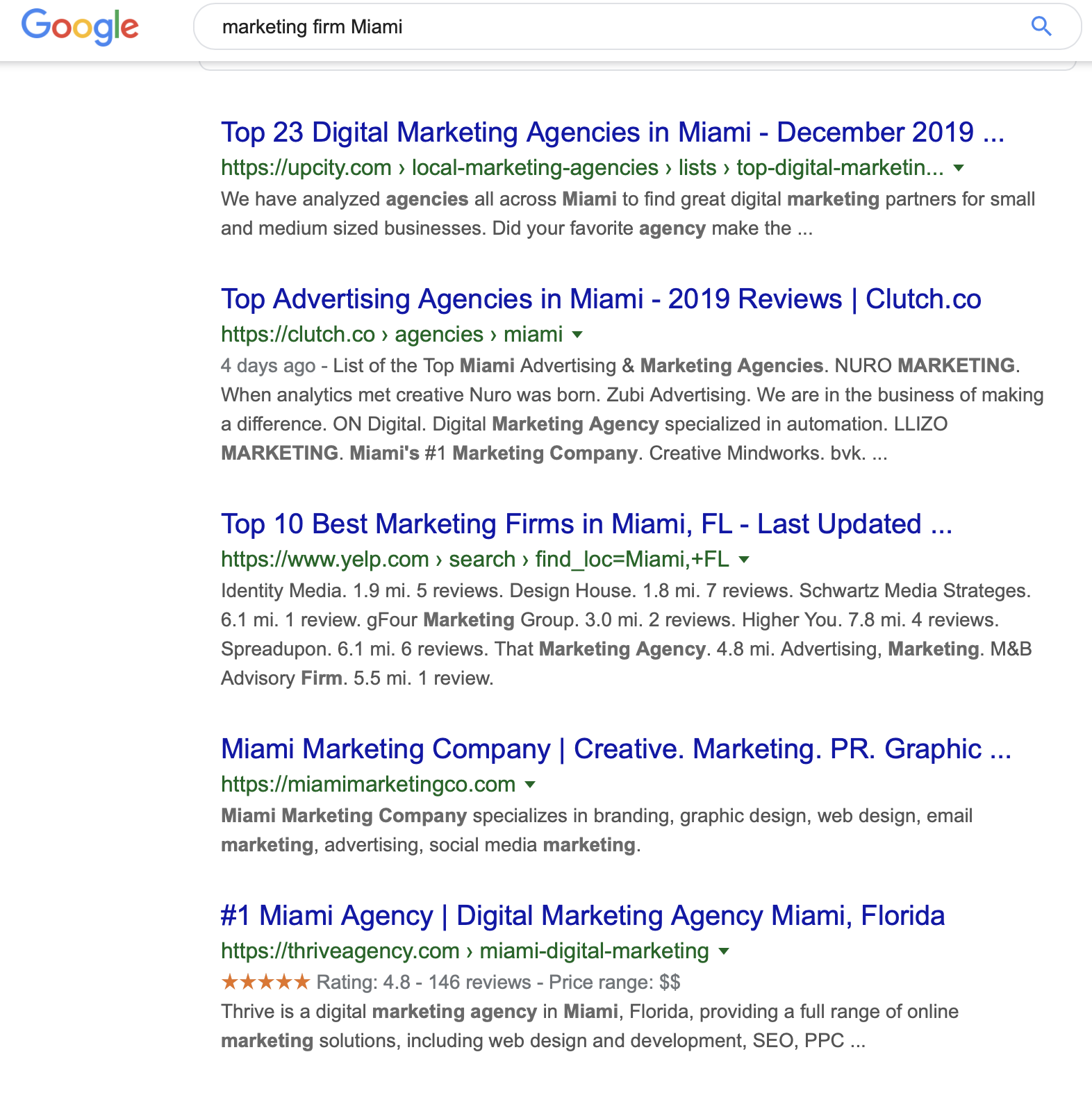 Local Results (Middle)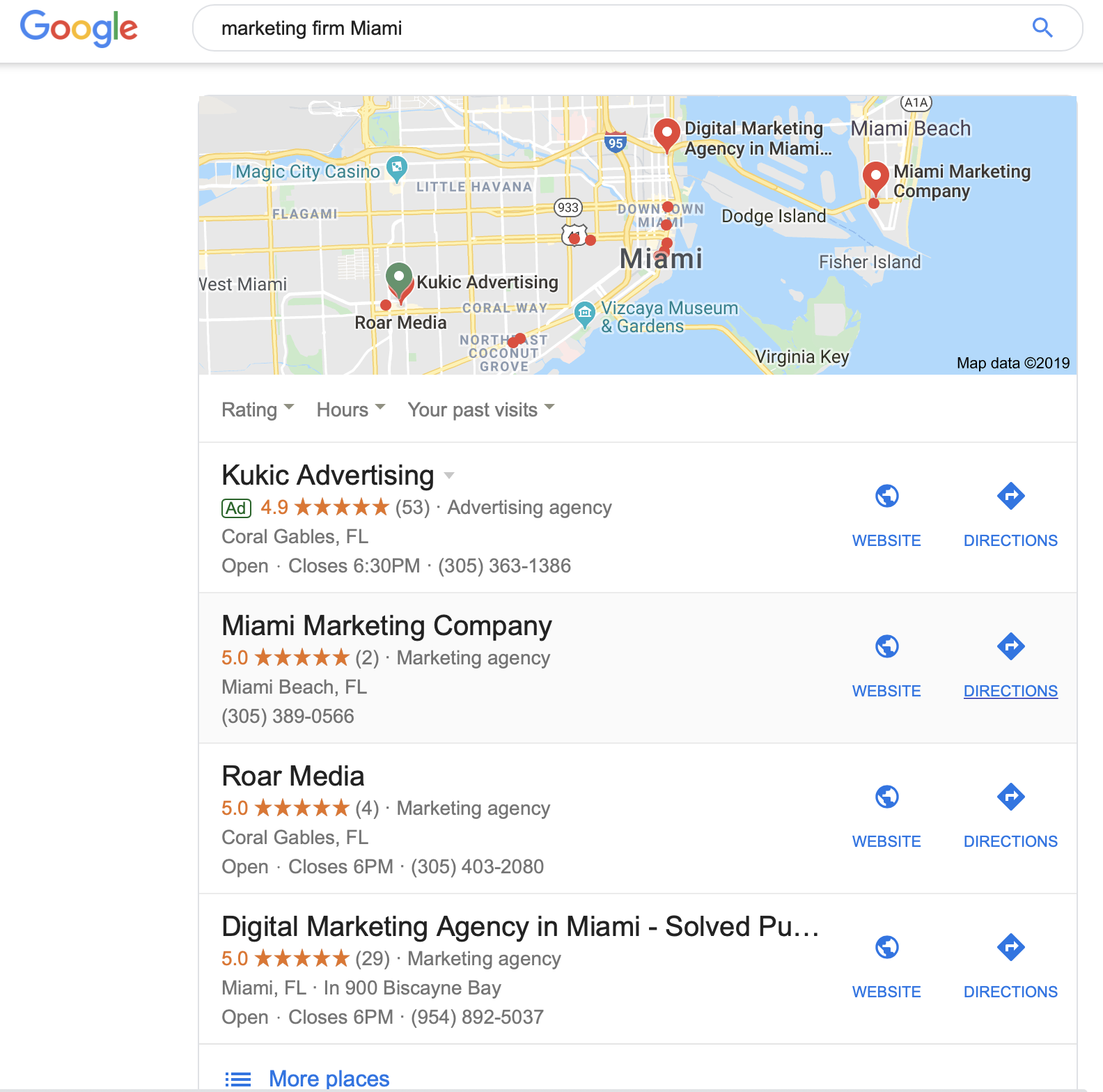 Organic Results (Bottom)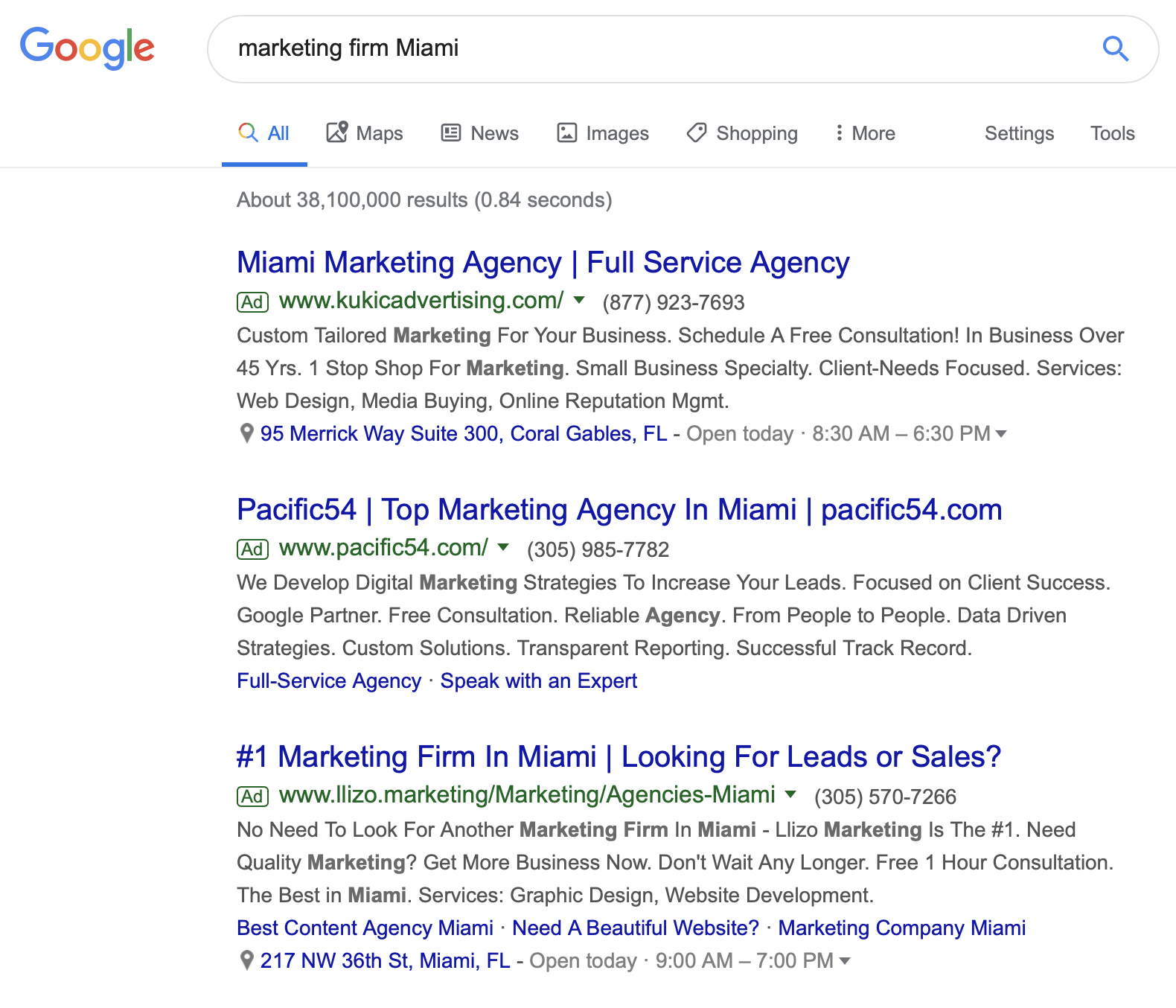 Ensuring your business shows properly in search results is important as well. Your address, website, and contact information will show in addition to user reviews. This content needs to be accurate in order to create additional positive impressions from viewers.
Make sure your law firms regularly updates changes to your business on all review platforms. In addition, take time once a week to review and respond to user reviews.
Law firm reputation management can take a signifivant amount of time, and it may be worthwhile to consider hiring a firm to oversee this aspect of your advertising.
Strategy #4: Influencer Advertising
While this advertising strategy is the most recent, using influencers produces visible results. Who are influencers? Authoritative voices, usually with strong social media presences, who discuss topics related to a specific industry.
Take Bob Ambrogi as an example. The media and tech lawyer has 21k followers on Twitter and has become a leading voice in the legal industry.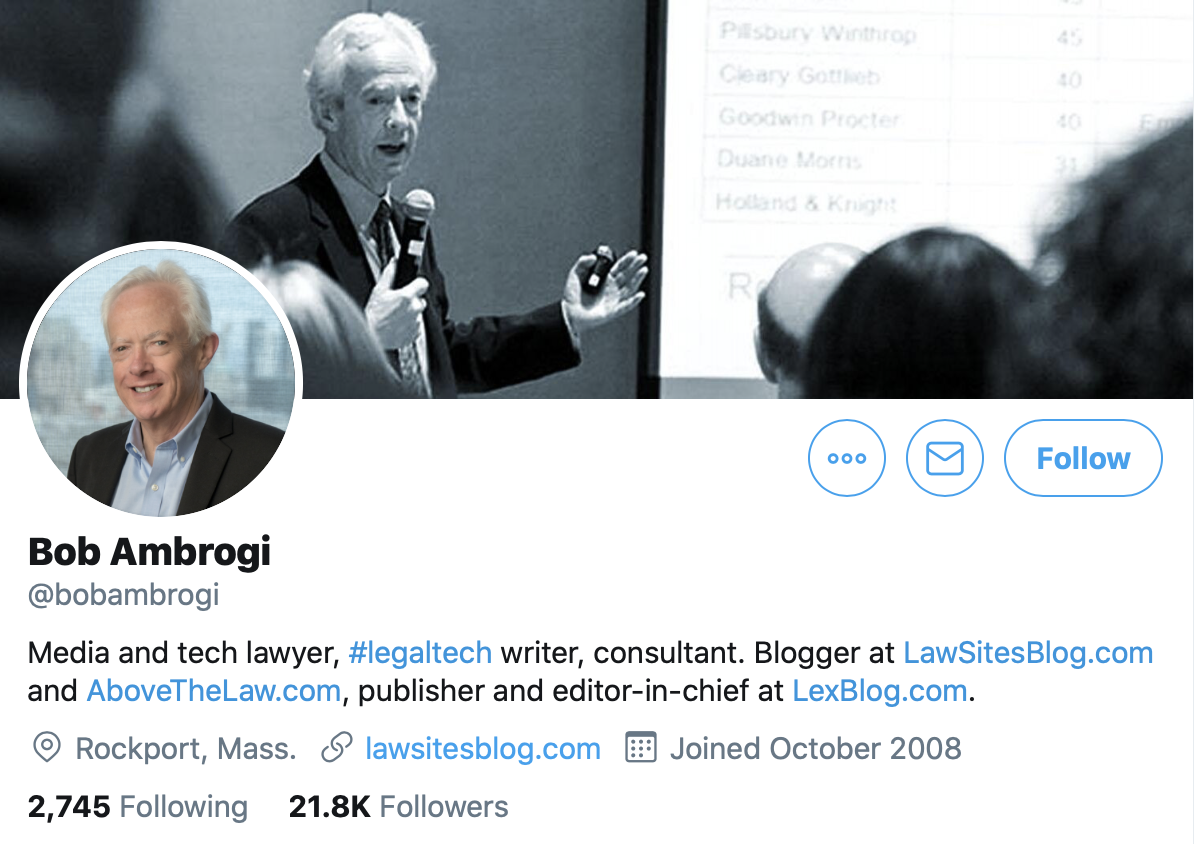 Remember. A key to law firm growth centers around building trust and authority. You do this by creating valuable content and sharing case successes with audiences. When other industry influencers do this for you, it only increases that perception of an experienced, accomplished law firm.
Influencer marketing starts by identifying top voices in your industry area. Then, reach out them to see how you can work together in promoting your law firm for the benefit of the entire industry.
Get the Word Out. Advertising Your Law Firm is Key!
Growing your law firm is a multi-step, long-term process. No plan produces results overnight. Starting your advertising efforts are key. Don't wait until tomorrow. Start sharing the fruits of your hard work today by using proven, cost-effective strategies to attract audiences and grow meaningful relationships with people who need your support.
Learn more about marketing your law firm by checking out our blog just for legal professionals.

If you're looking to partner with an experienced, friendly, and results-driven team to help your law firm's growth, check out Rizen Inbound.
We're a gold-tier, Hubspot-certified inbound marketing firm focused on removing the mystery of marketing and replacing it with cold hard numbers.
Our happy clients include law firms from a wide array of specialty areas. Just look at the results we've achieved for the attorneys at Trust Counsel and Loigica.
You can also follow our adventures on social media. We're active on Facebook, Instagram, Twitter, and LinkedIn.
Connect with us in the car or while cooking dinner by checking out our "Inbound Academy" podcast. We publish a new episode every week, always filled with advice that will help you grow your law firm using inbound marketing.
Contact us today to begin a conversation. We can't wait to hear from you!