The customers you sell to today are different from five or even ten years ago. They are still the same people - it's that they've entirely changed
HOW
they buy.
Thanks to uber-powerful search engines like Google, the customer doesn't need salespeople to point out their pain points and find solutions. The customer is researching their problem, how to solve it, and which companies can help them out.
Today's Customers
Need proof that times (and buyers) have changed? Here are some impressive numbers:
● People are relying more and more on word of mouth and reviews. 71% of shoppers use their mobile devices in-store to check out product reviews, compare prices, and more (Salesforce).
● Modern consumers take their research seriously. 68% of customers prefer to do their own research online before engaging with a sales rep or making a purchase (Forrester).
● Content marketing matters. According to one study, 47% of buyers viewed three to five pieces of content before engaging with a sales rep (DemandGen).
● Pop-up ads and pushy marketing are passe. 81% of consumers have left a website because of a pop-up ad (Hubspot).
● Direct mail is ineffective. 44% of it never even gets opened (Salesforce).
By now, it should be clear - today's buyer is different. So what's the best approach for engaging your target audiences? Which strategy is the most economical? We put these two head-to-head to see how they stack up. Ready? Fight!
Outbound Versus Inbound

Customer Initiative
Years ago, when consumers didn't all have screens full of data points and reviews at their fingertips, buyers needed salespeople to identify their problems and provide solutions. These days, buyers are empowered to do their purchasing research before the salesperson comes into the picture. The days of the pushy salesperson are over, which is why inbound marketing gets such massive results.
WINNER:

INBOUND

Ad Fatigue
But it's not just that people are Googling all of their problems. We also see advertising fatigue on a large scale. People are overwhelmed by the amount of digital and physical ads they see every day. Consumers face constant bombardment from impersonal, cheesy sales tactics. That's an outbound strategy that modern consumers particularly hate.
They'd rather see a personalized, tailored message--like something that you'd find in an inbound strategy. The vast majority of people--80% of customers--are more likely to purchase a product or service from a brand that provides personalized experiences (Epsilon).
WINNER:

INBOUND

Outbound Isn't
Completely
Dead.
Of course, we're not saying that every single company or marketer should ditch their outbound strategy in favor of an inbound methodology. In fact, in some industries, outbound still works! It depends on your customers, how they buy, and where they spend their time online.
Often, a company that uses outbound methodologies can benefit simply by incorporating a few inbound techniques into their strategy.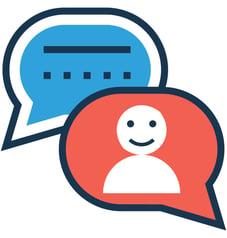 Here's one such example. Say your company's sales rely mostly on cold calls. You don't have to ditch that strategy altogether. Instead, focus on quantity over quality. Don't make 100 cold calls a day; make 10-15 "warm" calls by researching the prospect and providing personalized solutions and recommendations. Take the techniques of account-based marketing and make them work for you.
Depending on your customer base, outbound strategies like cold calls, direct mail, and print advertising might still offer some results.
Inbound or Outbound: Does Your Customer Win?
When it comes down to it, inbound marketing is all about informing and delighting. This approach intends to be useful, not intrusive. Outbound marketing might have worked back when salespeople held knowledge. In the days of Google, information is accessible to almost everyone.
That means the way that people buy has changed.
So why haven't you changed the way you sell?
Make your customer happy by selling to them the way they want you to. Trust us; it's a win-win situation.
If you're interested in learning more about inbound marketing, we made a guide that is the perfect place to start.

Download our inbound marketing guide here.
It's free! You'll learn:
● More about what inbound marketing REALLY is
● How it's different from (and usually better than) traditional marketing techniques
● If inbound is right for your business
● And how to get it all started with a killer content strategy.

Have any questions about inbound marketing and how it can work for you? Give us a call or shoot us an email. Let's chat!