You've worked hard to establish a practice built on principle and integrity. Your satisfied client list continues to grow. You've built and optimized an engaging website. You've created valuable content for your target audience.
Have you taken time to establish a presence on social media? If the answer is "no" you're missing out on a powerful source of attracting and engaging new and existing customers.
Your law firm should be active on the main platforms such as Instagram, Facebook, LinkedIn, Twitter, and YouTube. Using these services effectively takes strategy and practice.
Here's a list of best practices to help lawyers get the most impact out of social media channels.
---
---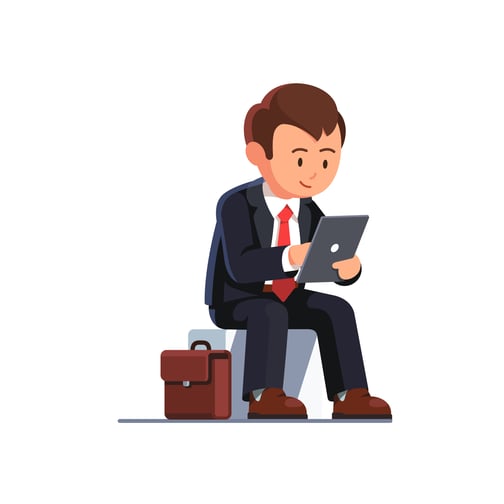 Are Lawyers Currently Leveraging Social Media?
Recent studies show a high usage rate of social media platforms by lawyers. The legal news site Attorney at Work published a study that found 81% of lawyers surveyed stated they personally use social media for professional purposes, while 77% reported that their firms also maintained a social media presence.
In addition, the American Bar Association has found 75% of their members have a Linkedin profile, 26% are active on Facebook, and 10% have a Twitter account. Social media is becoming so important to the legal profession that the ABA is currently assembling it's own social media policy. They've already published business conduct standards and an overall code of conduct for members.
It's clear that law firms have found and embraced social media to connect with potential clients, further engage existing ones, and establish themselves as a trusted authority in their fields.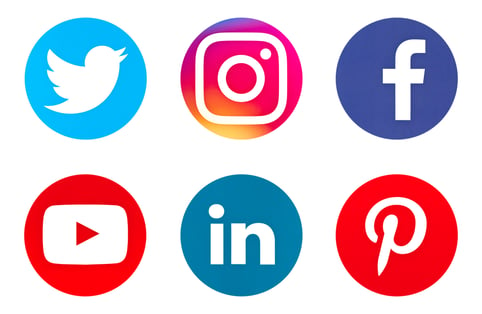 Which Social Media Channels Should You Use?
Establishing an active, valued presence on every social media platform is a time-intensive task - especially if you're not outsourcing your marketing (shameless plug Rizen handles social media marketing in a demanding task!).
Our advice? Choose a handful of services that your target audience uses most. Thanks to several research studies by large organizations, we can effectively discover which platforms are popular with certain pockets of the population. For example:
69% of the U.S. population has a Facebook account.
Instagram is most popular with 18-29-year-olds.
51% of LinkedIn users have enrolled in post-graduate studies.
Twitter is the most popular social media platform for international users.
YouTube has over 1 billion registered accounts.
To see more about the latest social media usage findings, check out this report from Pew Research.
Once you choose 1-2 social media platforms, make it a priority to actively engage with your audience. Be where they are. Provide value. Create relationships. If someone is looking for an answer, be the best source of information.
Use social media to promote an offer for a free consultation or discounted services. Create a testimonial video featuring a happy client from a case you just closed. Join a Facebook or LinkedIn group to network with individuals in your space and establish yourself as an authoritative voice. The goal is to spread your great content so that others can, in turn, spread it and boost your law firm's visibility.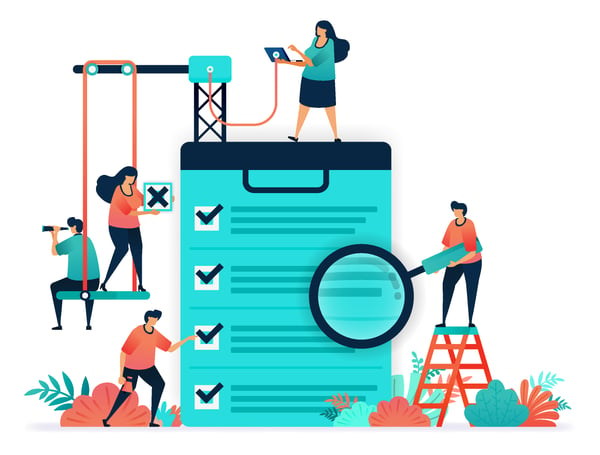 Best Practices for Social Media Success
Listen. It's not enough to create a post on Facebook once a month. You need to have a plan.
While most blog posts on social media for lawyers will have you start by defining goals and objectives (blah blah) let's cut right to the important part - engaging with your audience.
Honestly, your objective should be to engage your audience and provide value. That's it. To do this, publish diverse content and stick to a schedule.
Those are the two most important factors.
Use these suggestions to create a plan and optimize your presence on social media.
1) Fill Out Your Account Details (Completely)
When creating an account, think of the details like you're creating a storefront on a busy highway. It needs to be attractive and informative if people are going to stop and visit.
Almost every social media platform has four areas you need to pay attention to when setting up your account:
Your Business/Profile Name - Choose a profile name that clearly aligns with the name of your firm. If you're a solo practitioner, your user name should be your desired advertised name. If you're the founder of a law firm, choose your business name as your profile title. What do you want associated with your practice? For example, don't choose a profile name like "Kevin Jones" when you could choose a handle like "Kevin Jones, P.A." or "Kevin Jones Law." Don't leave audiences guessing if your profile is a personal account or one representing an actual legal service.
Featured Images - Most social media sites ask for two images to start - a profile picture and a banner image. The profile picture should be square image featuring your face or law firm's logo. The banner image should be a longer horizontal image featuring a key aspect of your practice (your headquarters, an image of you in court, your legal team, anything inspiring confidence in you as a legal professional).
A Description - Take the time to develop a 1-2 sentence description of your practice, including practice areas and any special features that set you apart. For example, a quality decsription could be "A bilingual, Miami-based personal injury firm with 35 years of experience serving our community." To a Miami-based firm, a practice with a focus on bilingual services and strong ties to community will mean a lot to their audience. Research what matters to your target audience.
Links to Other Resources - Include a link to your website or other destination you want to direct visitors to for "next steps." If a reader is moved by a testimonial video on your profile, make it easy for them to take action on becoming your next client.
2) Create a Social Media Posting Schedule
As Benjamin Franklin (supposedly) once said, "those who fail to plan, plan to fail." Take time to lay out what you'll be posting before the day comes - especially if multiple team members are involved in the process. Laying out a concrete schedule for what is being posted and when will ensure you meet those two most important objectives - publish diverse content and stick to a schedule.
An easy approach to creating a posting schedule is by creating a spreadsheet and creating the following columns:
Platform to Post
Date/Day
Post Type
Description (the text to include in the post)
Fill out these columns 30 days in advance and make the spreadsheet accessible to anyone involved in your social media strategy. If you'd like a professional template to quick-start the process, use ours. It's on the house!
3) Tag Your Posts
A popular means of organizing the tidal wave of content social media is through the use of hash tags. This categorization strategy groups content based on a keyword by using the pound sign (#) and a term. For example, a legal-related hashtag could be #martimelaw. When posting content on your social media profile, make sure to use this group strategy to help people find your content.
To increase your post's visibility, use multiple hashtags for each post. Never do more than five, as including too many comes across as spammy. Choose a handful of solid, closely-related hashtags and you'll be putting your content in front of the right audiences.
If you're trying to determine which hashtags to use, we recommend CyBranding's Hashtagify Tool. Search real-time data and insights about any hashtag to find the ones most popular terms related to your practice areas.
4) Diversify Content
Users enjoy following social media channels offering an array of content types. Sometimes blog posts work, sometimes a more visual content piece will trend with your audience. Make sure to use a variety. Here are some content types we recommend you start with, along with creation tools we recommend:
Each of these tools increase the professional look of your content pieces and decrease the amount of time needed to create them. We use each of these tools in-house, and recommend them from our own experience.
5) Make Yourself Available (In Real-Time)
One of the most underutilized tools offered by social media is to make yourself available to an audience in real-time. We discussed the importance of establishing your law firm as an industry authority, and the best way to do that is to be amongst the people! Make yourself available to answer questions, provide advice, or participate as an active community member. Holding an in-person event is just one way to connect with clients. A digital meetup can accomplish the same goals too!
As an example, Facebook offers an excellent feature called "Facebook Live" which allows a user to start a live video broadcast right from any device. Users can join in real-time, asking questions, sharing reactions, and promoting the event on their own feeds.
Imagine the interest a 30-minute session entitled "What Happens During an Actual Family Custody Hearing" Q&A session would garner for individuals needing family law representation!
You are providing individuals an opportunity to educate themselves on a topic of importance to them, all while establishing your firm as trustworthy option to hire when the time is right.
Currently, every major social media platform offers a "live video" feature right in-app or on their website, including:
Facebook
Instagram
LinkedIn
Twitter
YouTube
You spend your time interacting with people in-person. Offer them the opportunity to interact with you even when distance may be a barrier too.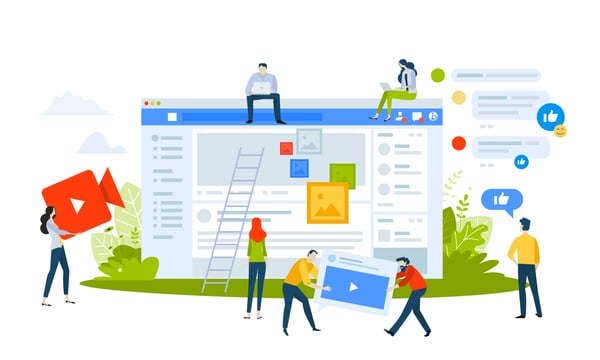 Start Growing Your Social Media Presence Today
Law firms can continually attract new leads and secure clients by putting themselves where the customer goes - and social media undoubtedly where today's customers spend a large amount of time. Make a commitment to starting or growing your social media presence today - even if it's just a small step forward. Your efforts will yield results!
If you're looking to partner with an experienced, friendly and results-driven team to assist with your law firm's growth, check out Rizen Inbound.
We're a gold-tier, Hubspot-certified inbound marketing firm focused on removing the mystery of marketing and replacing it with cold hard numbers.
Our happy clients include law firms from a wide array of specialty areas. Just look at the results we've achieved for the attorneys at Trust Counsel and Loigica.
Learn more about marketing your law firm by checking out our blog just for legal professionals. You can also follow our adventures on social media. We're active on Facebook, Instagram, Twitter, and LinkedIn.
Connect with us in the car or while cooking dinner by checking out our "Inbound Academy" podcast. We publish a new episode every week, always filled with advice that will help you grow your business using inbound marketing.
Contact us
today to begin a conversation.
We can't wait to hear from you!